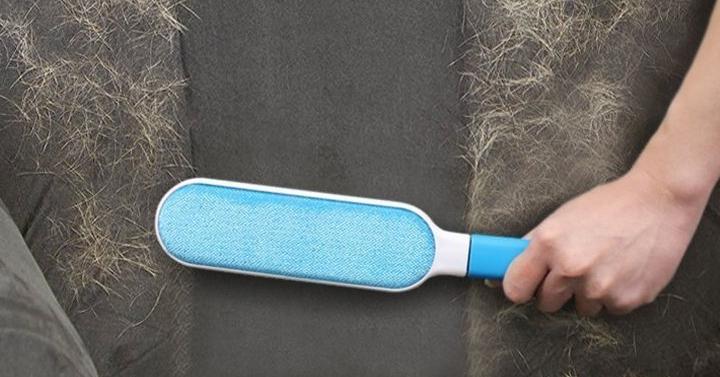 ★ 【100% BRAND NEW AND 100% PROTECTION AND 100% MONEY BACK GURANTEED QUALITY】 MULTIPURPORSE – It is possible for you to use this tool in order to get rid of any type of hair on your clothes and furniture. For example, you can use this tool as a lint remover and get rid of that dowdy look with your sweaters or shirts. Your guests will love this tool when you offer it to them

★ 【EASY to USE】 – You do not have to deal with fancy features or anything else while using this tool. It has just one purpose which is removing all kinds of fur from your clothes and furniture. It will be enough for you to hold the tool and apply it to the areas with fur. Right after few quick application, you are going to get rid of all types of fur from any kind of fabric easily.

★ 【EFFICIENT】 – Unlike most of the other products on the internet we can guarantee that you are going to remove all kinds of hair from your goods. It can quickly remove all kinds of fur in seconds. But it will be worth to note that cat fur is thicker than other furs, so you may have to implement the tool more than once in order to fully get rid of the cat hair.

★ 【AFFORDABLE】 – In case you have searched the market before then you already know that this product is the most affordable one among the high-quality products. You are not going to save money by buying this product, but you will also buy a product which will last years although you will be using it on a daily basis. If you are looking for a product to meet your expectations, then you already found it.

★ 【HYGIENIC】 – The special design of the device allows you to not touch the hair it collected from your clothes and furniture. You may have to touch the hair when you are going to clean the device. In such cases, we recommend you to wear rubber gloves. No additional maintenance if required apart from removing the stuck hair on the device. In case you pay attention to your personal hygiene then you have found your best product!
Prize:
Pet Fur Remover - Lint Remover, Dog and Cat Hair Removal Brush With Self-Cleaning Base, Double-Side Lint Brush for Efficient Pet Hair Removes from Clothes and Furniture Home Blue
Ends:
April 25, 2018 11:59 PM PDT or when all prizes have been awarded.
Limit:
Restrictions:
ENTER GIVEAWAY