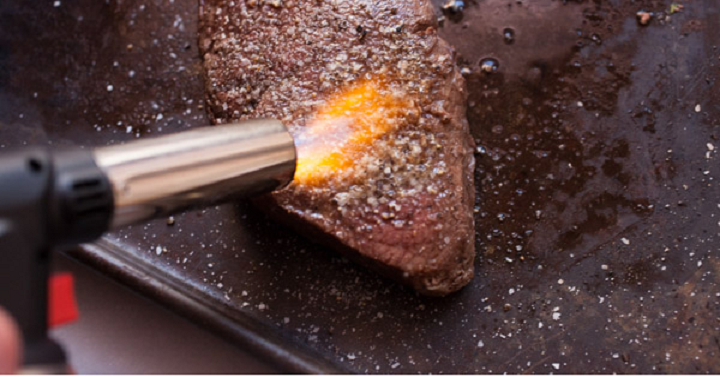 COOK LIKE A MASTERCHEF: Would you like to impress your friends with your great chef skills? Rest assured, you'll do just that! You have all our support.With the help of our kitchen torch, you can make delicious desserts, like creme brulee and other tasty foods like glazed ribs to satisfy their taste buds and have an amazing dinner. Still, haven't decided what you'd like to prepare for them? Don't worry! We've got your back, and therefore, we give you a 10-recipe e-book to boost your inspiration.

EASY TO FILL AND USE: Just under 5 seconds, if you think you might be having trouble filling the torch, stay calm, we'll give you a video to see how easy it is (BUTANE NOT INCLUDED). This blow torch can be used very easily due to the small weight and the size perfectly made on the size of your hand. It has two types of flames jet & lighter, which you can adjust in both size and intensity, depending on what you want to do; With the continuous flame lock button, cooking will be pleasant and fun.

PERFECT AS A GIFT: We are aware you're always in search for the perfect gift for your loved ones, and even if they're experts or beginners in the kitchen, it'll work! The torch comes with a cotton pouch for storage as a bonus, which comes in a high-quality gift box; as well as a 10 delicious recipe e-book and a video about filling as a bonus. Your loved ones will be thrilled by the gift.

YOUR SECURITY AND COMFORT ARE OUR MAIN OBJECTIVES: It's constructed of high-quality materials; hard plastic and thick stainless steel, which offers extra quality, makes it durable and reliable. Moreover, the ignition button is designed with your children's safety in mind, so you don't have to worry about that. Multipurpose torch ideal in your home is useful for: creme brulee, toast, seared meat, meringue, melt cheese, roast peppers, campfire, BBQ, welding, bartender, candles, cigars and more.

90-DAY MONEY BACK GUARANTEE: Delight your taste buds with the amazing dishes prepared in your own kitchen with the help of your food culinary torch. Because we have complete faith in our product, we offer you a 90-day money back guarantee and high-quality customer service, because your satisfaction is our priority. Get your FIMICC CULINARY TORCH, Cotton Storage Bag, Gift Box, E-Book and explanatory video about refill ordered Today.
Prize:
fimicc Culinary Butane Torch-Refillable Cooking Torch with Two Type of Flames,Safety Lock&Adjustable Flame-For Creme Brulee,Desserts,Camping&More-BONUS Cotton Bag,Recipe E-book&Video (Beige Nickel)
Ends:
September 6, 2017 11:59 PM PDT or when all prizes have been awarded
Limit:
Restrictions:
ENTER GIVEAWAY