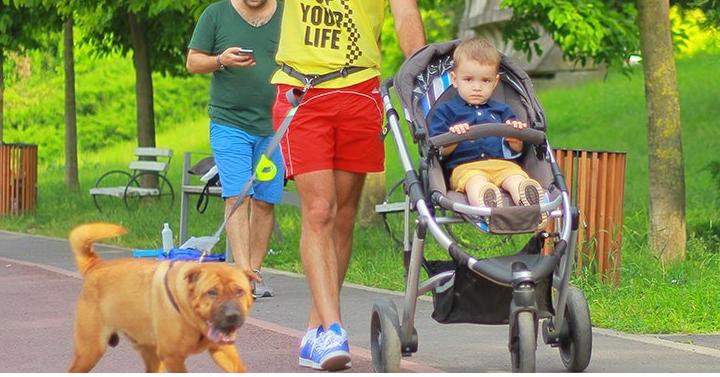 🐶 DOUBLE DOG & HANDS FREE LEASH – This Hands Free Dog Leash Kit was designed that can be used with 2 small or large dogs, at the same time. Many dog breeders complained that the leash was hanging on the floor, or the handles were not functional, the waistband was not comfortable and not be adjustable, the bungee leash was not strong and flexible. Many dog leash for running is not reflective. I have taken all these recommendations into account to make it the best Hands Free Bunges Leash.

🐾 DESIGNED FOR AN ACTIVE LIFESTYLE – Did you know you can use your Hands Free Leashes extension in multiple ways? This durable heavy duty Training leash can be used with small, medium & large dogs. Simply remove the leash from the waist belt, and use it as a Standard dog leash, a BASIC leash + TRAFFIC leash or BIKING leash + SHORT leash or SHOULDER LEASH + DOUBLE leash & even SAFETY leash. You can easily attach or detach it from the waist belt, to your dog collar or harness.

🐾 DUAL HANDLE FOR EXTRA CONTROL – Premium Multifunctional Hands Free Leash with two strategically placed handles that are padded with a soft & durable neoprene, allow you the control to prevent dog fights. HIGH QUALITY MATERIALS & REFLECTIVE LEASH for runners, jogging. Most people will be using this retractable dog leash body system, in the later hours of the day. This Hands Free Bungee Leash will ensure that you and your dog will be seen in traffic, even after the sun has gone down

🎁 IT'S A PERFECT GIFT FOR YOUR PET – This amazing Hands Free Dog Leash, for running walking hiking or pushing a stroller, is perfect for mothers. Will certainly be a must-have for everyone who owns a pet,puppy. The accessories Hands Free Leash are able to be used in multiple ways. This is the dog leash of the 21st. century. People want to be more practical, speak on the phone, read and write messages. Extra attachment Hands Free Leash walker, offers you the safety and freedom to be smart.

🎁 BONUS – We offer you a Poop Bag Dispenser with 1 roll of bags included & we also offer you for FREE, a Traffic Leash which can also be used as Training leash + a Bag to store the lightweight Hands Free Leash Set. Buying this durable bunges dog leash you will get 2 leashes: 1 Standard & 1 Training elastic leash. They can be attached to a ring so you get a leash for two dogs. It's perfect for jog, cycling, cross & runner. Not satisfied, will give you the MONEY BACK! Click Add to Cart NOW!!!
Prize:
Hands Free Dog Leash + Running Training Walking Leash & Double Dog Leash Coupler Set, Fits 2 Dogs + Reflective Leash • Adjustable Waist Belt + Strong Bungee Leash + Dual Handles • by Take Yankee
Ends:
November 21, 2017 11:59 PM PST or when all prizes have been awarded.
Limit:
Restrictions:
ENTER GIVEAWAY