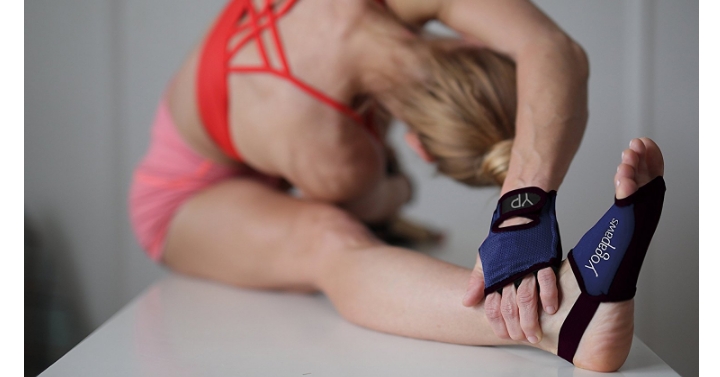 THE BEST TRAVEL YOGA MAT: Enjoy all the benefits of a full-size yoga mat, but without the bulky weight and space, with our compact Yoga Paws Hands and Feet Set. Our sticky yoga gloves and non-slip toeless socks literally become a wearable lightweight yoga mat, letting you practice EVERYWHERE. Simply drop them in a purse or bag to take with you, wherever you go.

SAY NO TO GRIP DOTS: Stop wasting your time and money on chintzy, knitwear, yoga accessories. Yoga Paws are designed with a full layer of durable Natural Rubber that retains its grip, use after use, on even the roughest terrain or even in water. Yoga Paws are also a perfect addition to a slippery yoga mat, or if you're practicing on a hard surface like concrete or hardwood.

PADDING-FREE SUPPORT: With its minimalist design, our Yoga Paws Skin Thin Sets are free of padding, providing you with a Barehand/Barefoot feeling. They are a perfect addition to a slippery mat, or for those who practice on carpet where a traditional yoga mat will bunch and move. Our non-slip gloves and socks are also stellar for Pilates, Barre class, or for general fitness training.

PREMIUM CONSTRUCTION: Yoga Paws consist of a stretchy, breathable, mesh top to keep your skin cool, and a layer of terry cloth lining the Natural Rubber to wick moisture away from your skin and prevent slipping. Small, "barely there" elastic pieces separate the fingers and toes without the feeling of unnecessary, excess fabric irritating your interdigital folds. Each piece is also hand stitched with exterior, sturdy, zig-zag stitching to prevent seams from digging into your skin.

YOU WERE BORN FREE – NOW PRACTICE FREE: Your practice should never be hindered by slipping or the four corners of your mat. From wicking sweat away during Hot Yoga or Bikram, to withstanding the rigorousness of Ashtanga, to providing the ultimate free-flow experience during Vinyasa, Yoga Paws are designed for everyone's practice or exercise needs. Yoga Paws also has an incredible support staff to help with sizing and other issues.
Prize:
Yoga Paws SkinThin - Padded Yoga Gloves and Yoga Socks - Portable Travel Yoga Mats for Women and Men
Ends:
April 1, 2018 11:59 PM PDT or when all prizes have been awarded.
Limit:
Restrictions:
ENTER GIVEAWAY