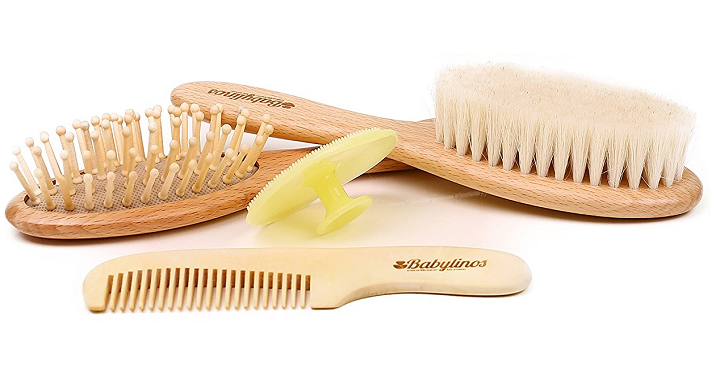 Cute foot shaped NAIL BRUSH for all your family members small or already grown up, NOW in our NATURAL WOODEN HAIR BRUSH SET. One super soft GOAT HAIR BRUSH, one DETANGLING MASSAGE BRUSH with safe round wooden bristles and anti-pressure air hole, easy to hold WOODEN COMB, one silicone shower BRUSH perfect to deal with CRADLE CAP while showering, with a cotton storage bag if you like to keep them tidy, it's the PERFECT Grooming kit for you.

CREATE MEMORIES! Due to the sturdy and cute packaging it's a PERFECT GIFT idea FOR BABY REGISTRY OR BABY SHOWER. PASTEL TO YOU baby grooming set is a MUST HAVE for all new parents. It's the perfect registry or baptism gift, showing your love and care. Are you convinced already? BUY IT NOW on our special offer!

Because of it's NATURAL super SOFT and GENTLE GOAT hair, Prevents CRADLE CAP, massages the head and distributes evenly the NATURAL OILS on your baby's scalp. EXTRA DENSITY BRISTLES in the BABY HAIR BRUSH are made with the SOFTEST NATURAL GOAT HAIR and will relax your baby while grooming him. Effective on newborns, could be used on older toddlers also. Due to the design, NO unnecessary pressure appears on your baby sensitive and soft scalp.Because we understand this need.

All pieces are ERGONOMICALLY DESIGNED and fit perfectly in your hand.THE PIECES have a ROUND SMOOTH finish that feels safe and sturdy. The wooden comb is made out of a single piece of wood, to be held with ease. As your toddler grows will be able to use it by himself. And having fun while doing that:)

100% QUALITY GUARANTEE: we stand behind our products so our main goal is to make you happy with our products. Please let us know in 90 days from product receipt if there is something that you don't like and we will give your money back. NO Questions Asked! While cleaning them, do not submerge in water, use a soft cloth dipped in warm water to clean the bristles and/or the wooden pieces
Prize:
6 Piece Gentle Natural Wood Hair & Nails Brushing Set -Baby Grooming Kit - hair brush, cradle cap, bath / shower brush, detangling and nail cleaning...
Ends:
April 18, 2018 11:59 PM PDT or when all prizes have been awarded.
Limit:
Restrictions:
ENTER GIVEAWAY