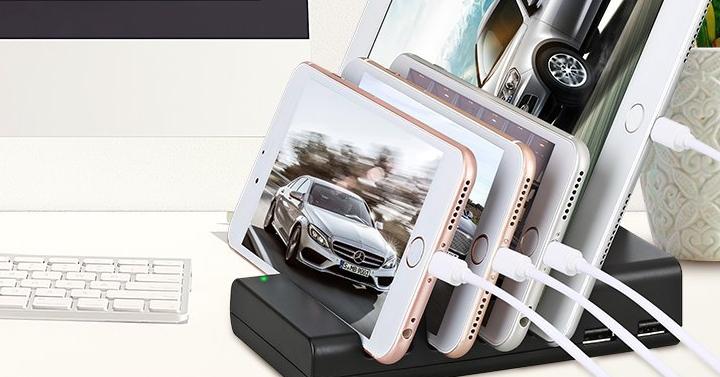 ✔1 STATION FOR 4 DEVICES: This amazing multi-device usb charging stations organizer provides 4 USB ports for multiple devices and goes a step further to make sure you have all your four devices charged each in a safe slot that makes your desktop at work, or even at home look neat and everything in order. This multiple charging station saves you from additional charging adapter or power strip. You should connect your charging cable (included).

✔HIGH COMPATIBILITY: The features of this powerful multi-outlet iphone charging stations are incredibly genius with an Intelligent Detection System which has a smart installed IC that will Automatically Identify Your Devices and distribute the safest current at a fast speed (up to 2.4A per port or 6A in total) to your devices. Charging station for multiple devices. compatible with iPhone, LG, iPad, iPod, Samsung Phone, Samsung Tab, Blackberry, laptop, HTC and most of android cell phone.

✔SIMPLIFIES AND MAKES YOUR POWER LIFE EASIER: With this fantastic 4 port usb hub charger station which is easily portable and takes very little space making it one of the most convenient and versatile multi USB powerhouse charging station; you can use it at Home, Office, Café, School, Hotel, Travel, Public and other indoor uses. It is also built with a LED power indication, for you to know the condition when you are charging you phone/tablet. This is simply a masterpiece.

✔CONVENIENT AND SAFE: This exceptional powerhouse smartphone charging station features a Comprehensive Security System that protects your devices from overcharge, overcurrent, overvoltage, overload, overheating and short circuit. Safety is vital and this why our portable charging station is also wisely designed with an in-built high quality PVC Copper wire, a Premium Circuitry with over-voltage, over current and short circuit protection. It's therefore completely safe to use.

✔RISK-FREE PURCHASE: We take great pride in our products, and it is our priority to ensure you love it as much as we do. This why we have placed a 6-month warranty for this, with a 100% money back if the product does not function as promised.
Prize:
Zglon Multiple Powerhouse 4 Ports USB Charging Station-Hub Dock for iPhone 7 Plus/6 Plus/6/5S/5C/4S iPad Pro/Air/Mini/3/2/1, Nexus, HTC Samsung Galaxy S6 Edge/S6/5/4/3/Note/Note2/Tab, iPod Etc.
Ends:
October 26, 2017 11:59 PM PDT.
Limit:
Restrictions:
ENTER GIVEAWAY