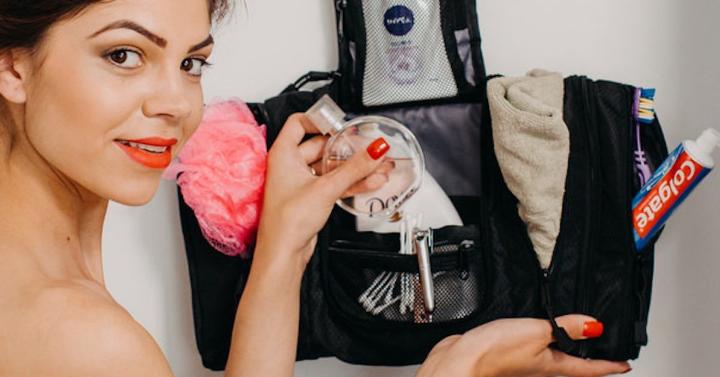 SUPERIOR VALUE: Flat Packing and Space Saving Bag for Your Carry-on or Large Suitcase with 4 different compartments + Travel Bottles Set that includes: 2 x 100 ml Pump Bottles, 2 x 10 ml Jars, 1 x 100 ml Spray Bottle, 1 x 70 ml Screw Cap Bottle, 1 x Funnel, 1 x Mini spatula, 1 x PVC zip pouch + The FusionTrek Digital Book: "Insider's Guide to Travel: Cruising, Camping, Family and Budget Vacations"

PREMIUM QUALITY: Made of Premium Environmentally Friendly Nylon. Zipper Closure with slip-resistant SBS Zipper Pulls and elastic ensures smooth opening and closing. Removable Metal Hook: The Bag can be Used on Door Handles, Bathroom Cabinets, in the Shower or as a countertop kit.

PACKS FLAT: Stay organized, Pack easily and neatly and Have all your Essentials with this Hanging Toiletry Kit! The carry-on bottle set that is specially designed for travel use is 100% BPA free, TSA approved, reusable and leak proof and comes in an elegant Ziplock clear Bag.

WIDE RANGE OF USE: Works great for: Cruising, Week-end Getaways, Family Vacations, Business Travels, Hotel stays, Lodging, Airline travel, Spring Breaks, Adventure Expedition, Holiday Trips, Hiking, Camping, RVs, Trailing, Water and Winter Sports. You can also take it with you for a Workout at the Gym or to the Beach or Pool for a Swimming session. The e-book will offer you hundreds of ideas about how to spend less to make your vacation dream come true while maximising your travel experience!

PROTECT YOUR INVESTMENT & BUY WITH CONFIDENCE: All FusionTrek Products are backed by our Risk-Free 60 Day Money Back Guarantee. Traveling is our passion, so making Good Quality Products that come along with you is the way we show WE CARE.
Prize:
Premium Travel Kit: Hanging Toiletry Bag / Unisex Slim Packing Organizer + Travel Bottles Set, Airplane/TSA Approved + eBook for Vacation Tips by FusionTrek
Ends:
August 15, 2017 11:59 PM PDT or when all prizes have been awarded.
Limit:
Restrictions:
ENTER GIVEAWAY