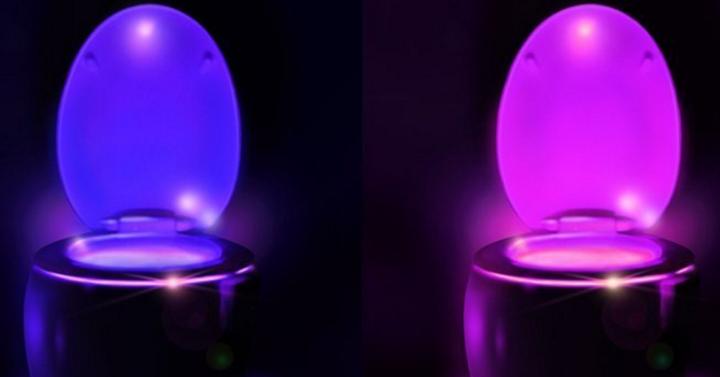 FUN AND SAFETY GO HAND IN HAND. You must know that feeling when, woken up by nature's call you're lying there in bed, planning out your bathroom trip. Whether you're stressed about turning on the blinding lights, bumping into stuff (FYI, there are yearly over 30.000 toilet related injuries in the US alone) or worried about waking up your better half, RainBowl is the BEST SOLUTION.

FLAWLESS SENSORS set off the motion activated nightlight only during nighttime, when you and your family need it most and in order to SAVE ENERGY RainBowl will stay on for just 2 minutes after last detected movement. THE STURDY ADJUSTABLE ARM allows a hassle-free installation on ANY TOILET BOWL. Forming a firm grip around the toilet rim, it makes sure the lighting accessory STAYS SNUG, without dropping whenever you raise or lower the toilet seat. So easy.

THE MULTI COLOR CAROUSEL will entertain your child while POTTY TRAINING. Simply by pressing a single button your toddler can choose to freeze his / her favorite rainbow shade and, if he / she gets bored, press again to switch back to the SMOOTH COLOR TRANSITIONING mode. The LED lamp at the end of the rod is encased in FULL ABS PLASTIC preventing water damage from casual splashes. However, please be gentle.

DON'T KEEP ALL THE AWESOMENESS TO YOURSELF! Hands down, have you ever seen a more versatile and unusual GIFT IDEA? Random mugs and other boring presents are ancient history! Whether it's your mom & dad's anniversary, your co-worker's housewarming party or you're attending a dear one's wedding, this novelty item will bring a smile to everybody's face and unlike other gag gifts, this smart device will also prove USEFUL.

BUY WITH CONFIDENCE. Last but not least, we'd like to assure you that our product is of TOP-NOTCH QUALITY and SUPERIOR DURABILITY. To support our claims we offer LIFETIME WARRANTY to our customers. If anything goes wrong with the device, we GUARANTEE its replacement. Simply write us and we'll take care of the rest! Or get in touch anyway, we won't bite.
Prize:
RainBowl Motion Sensor Toilet Night Light - Funny Unique Gift Idea for Him, Her, Men, Women & Birthday Kid - Cool New Gadget, Perfect as a Fun Gag Retirement Present
Ends:
August 14, 2017 11:59 PM PDT or when all prizes have been awarded.
Limit:
Restrictions:
ENTER GIVEAWAY