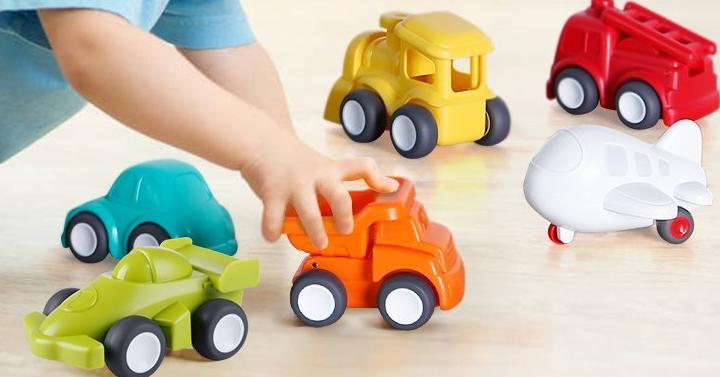 Colorful Toddler Toy Vehicles: 6 adorable bright colorful mini vehicles, including car, truck, aeroplane, train, racing car and fire Engine. Enlighten children's cognition of color and traffic vehicles.

Early Educational Toys for 1-4 Years Old Boys and Girls: The toys cars can develop children's ability of cognition, hands-on, hand-eye coordination and imagination. Toddler can recognize and learn difference between each vehicle. It can be used to teach kids vocabulary and language skills through play time.

Safety Toys for Kids: The baby car toys are made of first hand durable ABS plastic, environment friendly materials. 100% Safe. All the 6 vehicles are without sharp corners or tiny components. Designed specially for baby hands, easy to grasp and take.

Easy to Slide: The toy cars are free wheel instead of battery for convenience and baby safety. Utilize the principle of small resistance, free wheel and inertia, just push the car forward slightly, then it go and last for quite a long distance, which attracts child to chase to develop athletic ability.

Endless Fun: Fire engine's ladder and truck's body can move. The aeroplane's streamlined design is fine and smooth. It's the easy to play with children. Make amazing time to interact with toddlers.