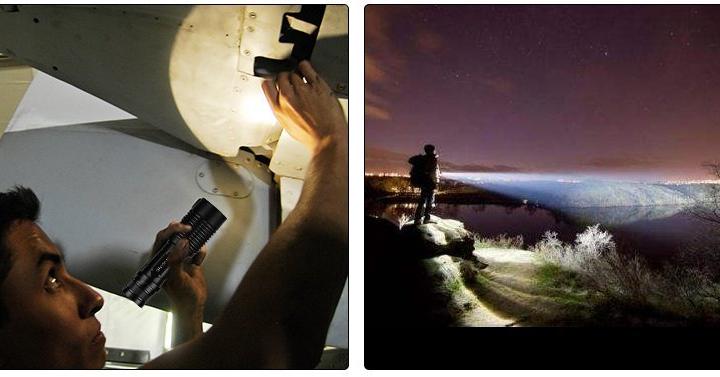 small rechargeable flashlight. high intensity flashlight led, tactical led flashlight strobe

Imported

✅ AN ALL-INCLUSIVE PACKAGE: Go camping, hiking, fishing, hunting, cycling or just walk your dog safely at night with our premium security package of Super Bright Pro Grade Tactical LED Flashlight + Lithium Ion 3.7V 18650 Battery + Battery Charger + Belt Holster. A high-end outdoor and household torch for firemen, security officers or nature explorers, ideal for search and rescue missions, emergency or routine patrolling- or just a practical emergency torch for home!

✅ WALK SAFELY IN THE DARK: Our high powered, premium durability LED chip delivers maximum brightness, to help you in all your outdoor night activities. The flashlight body is manufactured from water-resistant, anti-abrasive heavy-use aluminium alloy with guaranteed longevity, while the convenient belt holster makes it a reliable companion for all your household needs and outdoor explorations.

✅ SELECT YOUR SWITCH MODE: Operation is made a breeze just by pressing the ON/OFF button and the 5 SWITCH MODES available will allow you to choose the brightness of your tac flashlight to suit your needs. Pick among HIGH, MEDIUM, LOW, STROBE or SOS BRIGHTNESS and shed light to your steps at night in all your nature adventures.

✅ A SPECIAL BONUS: We accompany your order of the tactical LED Flashlight with a FREE practical durable BELT HOLSTER to make sure you always have your LED torch safe at your side. It is a useful device that allows you to conveniently carry with you your tac flashlight on your outdoor activities, to illuminate your footpath in dim light.

✅ NO QUESTIONS 30-DAY MONEY BACK WARANTEE: At Optilite we take pride in the quality and craftsmanship of our zoomable tactical LED Flashlight and we always strive to improve it. If you are not 100% thrilled with it, please feel free to contact us to resolve the issue or return it within 30 days and you will be fully refunded.
Prize:
Brightest Tactical LED Flashlight - A100 High Powered Handheld Tac Light - Rechargeable 18650 Lithium Ion Battery & Charger - Zoomable Adjustable Focus 5 Modes Outdoor Torch - Includes: Belt Holster
Ends:
November 3, 2017 11:59 PM PDT or when all prizes have been awarded.
Limit:
Restrictions:
ENTER GIVEAWAY