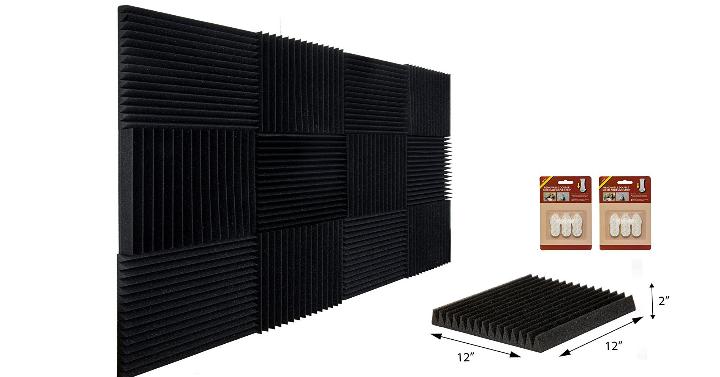 SOUNDPROOF A ROOM INSTANTLY: The BEEFOAM ACOUSTIC STUDIO FOAM PANELS are a complete set of wedge tiles that remove residual noise; the thick, versatile panels are decorative while being functional and simple to install in any small to medium room or area; they arrive neatly stacked in a 24.5 by 12.5 by 7.5 designer gift box ready for gifting, include two blister packs of double-sided tape for hanging, come with a VIP Club discount offer.

MADE OF THE BEST MATERIALS: Designed with2-inch thick foam unlike others that are only 1-inch thick, the BEEFOAM ACOUSTIC STUDIO FOAM PANELS have high 0.65 NRC and good 23K/M5 density,so they reduce the sound coming from your home and studio rehearsal room as theyimprove sound quality by removing residual noise, echoes, waves, flutter, and reverb; all are made of fire resistant foam as per CA Technical Bulletin 117;

DOUBLE-SIDED TAPES AS A BONUS: Every pack of BEEFOAM ACOUSTIC STUDIO FOAM PANELS contains 2 FREE blister cards with 18 piecestotal of double-sided damage-free tape tabs so you can apply your tiles in no time and make decorative, attractive displays while defusing ambient sound; the tape is also easy to remove without leaving residue; ideal for parents who want a quiet home studio or children's room, broadcasters In web radio, and professionals and musicians desiring sound dampening;

UNCOMPRESSED AND WELL PACKED: Unlike competitors, the BEEFOAM ACOUSTIC STUDIO FOAM PANELS are not shrunk wrapped when shipped; no need to wait 24-72 hours for them to expand; just open and set them up in minutes; our studio foam comes in prime condition and will never deform; they are so lightweight that the total weight of all 12 panels is 2.8 pounds;the 2 color choices of the wedges are all black or 6 black and 6 bright red

SATISFACTION GUARANTEE: We are totally confident you will be impressed with the quality of these panels that we offer asatisfactionguarantee; contact us immediately if you have any questions or concerns; BUY WITH CONFIDENCE the BEEFOAM ACOUSTIC STUDIO FOAM PANELS that contains a dozen 12 by 12 by 2 inch panels, 18 hanging tapes, and an invitation to join our VIP Club in a gift box ready for giving ;get a soundproof room fast and effortlessly.
Prize:
Acoustic wedge Studio Foam Panels 12 Pack 2' thick - Remove Noise & Enhance Sound Quality by-beefoam
Ends:
January 16, 2017 11:59 PM PST or when all prizes have been awarded.
Limit:
Restrictions:
ENTER GIVEAWAY