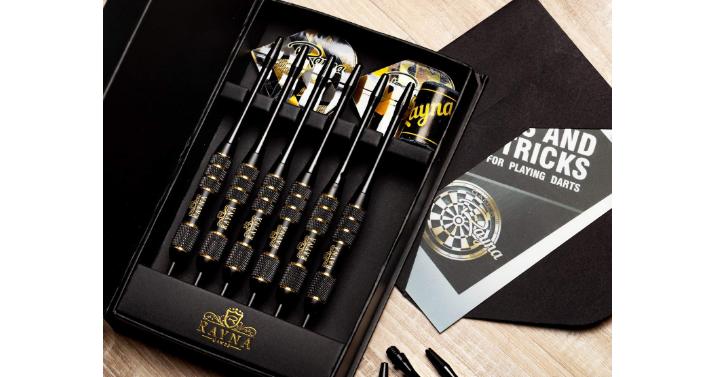 🏆CUSTOMIZABLE DARTS STEEL TIP SET includes 6 UNBREAKABLE BRASS BARRELS + 12 STRONG AND DURABLE Aluminum Shafts in two lenghts (6x35mm/6x45mm) +12 Rubber O-Rings + 12 DIFFERENT STYLE FLIGHTS + Dart Sharpener.

🔧 VERSATILE THROWING OPTIONS are possible with our combination dart shafts. This Proffesional Darts set with steel tip darts, brass barrels, different lenghts Shafts and Flights, offer you MULTIPLE SET-UP OPTIONS and gives you the best opportunity to discover the right configuration like a pro!

✈️ EXCEPTIONAL LIFT AND STABILITY are benchmarks of our standard dart flights. Exact symmetry ensures that the fins of each flight help centralize the dart on its trajectory, without creating resistance that slows the dart in its flight.

🚀 AERODYNAMIC PERFECTION results from our even-loaded straight barrel design. Industry-leading machining techniques ensure pinpoint throwing accuracy for stunning performance in grueling competitions.

🎁 ATTRACTIVELY PACKAGED for gift-giving, the Rayna Throwing Darts Set includes a sharpener to reduce bounce-outs and further increase accuracy for maximum points. This handsome set of 20 grams metal darts is perfect for the beginning darter as well as for all competition levels
Prize:
Professional Steel Tip Darts Set - Customizable 6 Brass Barrels 20 Grams with 12 Aluminum Shafts 35-48mm and 12 Different Style Flights + Dart Sharpener and Premium Dart Case
Ends:
August 16, 2018 11:59 PM PDT or when the prize has been awarded.
Limit:
Restrictions:
ENTER GIVEAWAY