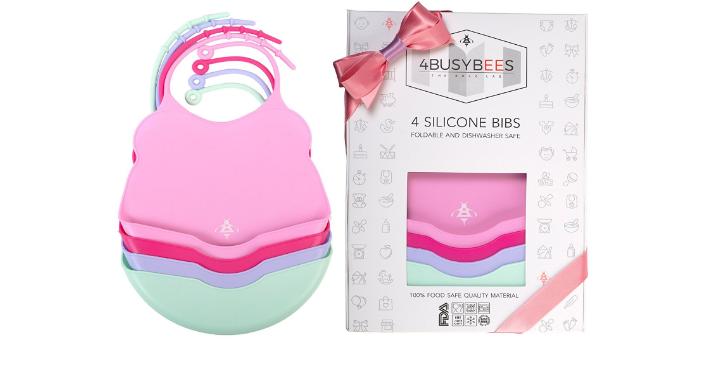 HAVE A CLEAN BABY BIB NEARBY WHENEVER YOU NEED ONE: These silicone baby girl bibs are really easy to maintain, you can wash the silicone bibs in the dishwasher, washing machine or simply wipe them with a damp cloth. They are completely foldable. Therefore, super easy to carry around; fitting easily in your pocket, handbag, purse, car glove compartment, baby bag, kitchen drawer, stroller pocket, etc.

CHOOSE A BABY BIB 100% SAFE FOR YOUR BABY: Our baby girl bibs are 100% SAFE for your baby! All 4BUSYBEES Silicone Bibs have been tested and approved by FDA USA; they are made of 100% FOOD SAFE QUALITY MATERIAL; BPA-FREE and Non-Toxic. They are perfectly safe for a child to chew on!

MAKE A SMART & RESPONSIBLE PURCHASE: 4BUSYBEES Silicone Bibs are very solid and long lasting. Pigment from the dye doesn't run at high temperatures and the colors don't fade away. You can keep them for a long time, saving money and the environment!

SURPRISE YOUR FAMILY AND FRIENDS: You will not find baby girl bibs with these great colors anywhere else! They are unique and original and they will make your baby girl look very TRENDY! 4BUSYBEES Silicone Baby Bibs are really cute and they come in nice packaging that was designed to make a beautiful GIFT for you and your baby. Ideal as a family and friends baby shower gift!

GET THE MOST COMFORTABLE BABY BIB IN THE MARKET: Soft like rubber, so very comfortable for your baby's neck, our bibs are hypoallergenic and will not irritate your baby's skin. They can be adjusted from 11 to 14 inches around the neck and are suitable for babies and toddlers.
Prize:
BABY SILICONE BIBS - CANDY Collection! PACK OF 4 Silicone Baby Girl Bibs - BEST Baby Girl Shower, Bibs for Baby Girls, Newborns - 100% Food Safe Material, Tested, BPA Free, Waterproof, Dishwasher Safe
Ends:
May 31, 2017 11:59 PM PDT or when all prizes have been awarded.
Limit:
Restrictions:
ENTER GIVEAWAY