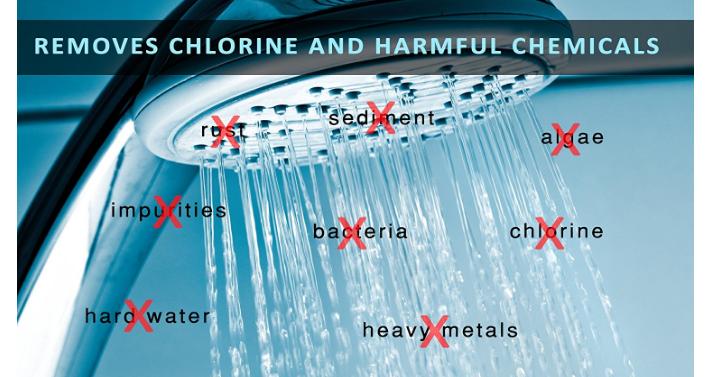 RELISH IN CLEAN AND HEALTHY WATER: The Ultra Shower Filter is ideal for removal of the junk in your water leaving your skin, nails and hair cleaner & softer. Your city water likely contains chlorine you breathe in when you wash. This can lead to breathing ailments like bronchitis, asthma, and even cancer. Our system of filters removes chemicals, sediments, and heavy metals in your water. Install our filters on your tub and shower taps to remove chlorine and ensure your good health.

NO MORE IRRITATED SKIN: Ultra Shower Filter's 10 stage design utilizes a unique structure of Polypropylene cotton, which has a surface area 3-8 times larger than ordinary filters making it more effective at removing sediments, rust & bacteria. Chemicals and heavy metals in your water can cause your or your children's skin to become damaged. Our hard water filters and softeners work effectively with regular utility water, spring or rain water, and water from most wells.

UNCLOG YOUR PORES AND PREVENT SCALY BUILDUP ON YOUR TUB: Hard water contains harmful copper, iron and magnesium and might leave scummy scale, mold or algae residue on your bath tub. That residue is clogging your pores and can lead to skin conditions like eczema or acne. Our Ultra Shower Filter water softener leads to purer water, which doesn't clog pores, doesn't remove hair and skin's natural moisturizer, and helps soap penetrate your skin for thorough clean. It is beneficial for pets, too!

ENJOY BONUSES, A WHOLE YEAR OF COVERAGE, AND EASY INSTALLATION ONTO ANY SHOWER HEAD. No need for a plumber. Universal design fits all shower types: fixed, rain, handheld and combo. Simply twist it on and you're done! Box includes extra refill replacement filter cartridge to provide a WHOLE YEAR of pure water. Includes Teflon tape to guard against leakage, rubber o-rings to maintain water pressure, and an instruction manual. Treat yourself to a cool, refreshing rinse with our filtering systems.

PURIFY YOUR WATER IN 10 STAGES & GET BONUS HAIR STOPPER: Steel Mesh on 2 ends: protects layers, filters dust & particles. Granulated Coconut Carbon: removes radioactive I-131, chlorine, & more chemicals. 2 PP Cotton layers: remove sediments, rust & bacteria. KDF 55: removes heavy metals & sulfur (H2S). Calcium Sulfite: removes lead, mercury, cadmium & aluminum. 3 layers of Alkaline, Magnetic and Nano Silver Ceramic balls: revitalize water, kill bacteria, toxins & rejuvenate skin, hair & nails.