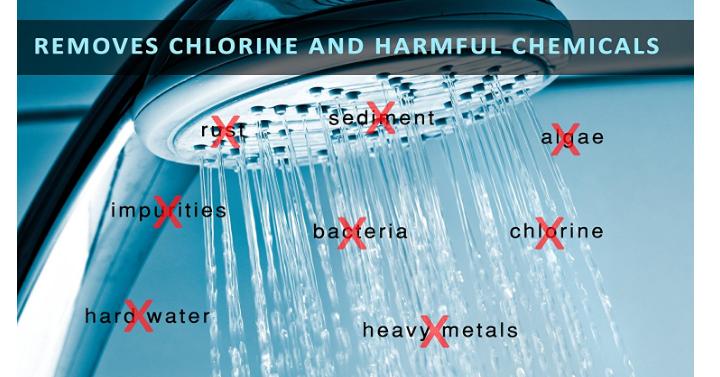 👩 HEALTHIER AND SMOOTHER SKIN & HAIR – Without the drying effects of chlorine skin becomes softer, healthier, and younger looking. It will also protect your skin from rashes, hives, freckles as well as other effects of contamination and irritation. Hair becomes softer and healthier because it is able to preserve its natural moisturising oils.

👶 PROTECTS CHILDREN – Chlorine as well as other chemicals in shower water can seriously interfere with the health of your young ones. This is because of their delicate health. The removal of chlorine from showering water can protect them from the harmful effects of chlorine inhalation. You will see your kids growing healthier and stronger immediately when you start filtering their shower water.

😱 LOWER RISK OF CANCER – Chlorine has been associated with increased risk of bladder and breast cancer. The association is not well defined but there is enough evidence to link the two. Cancer is one of the most dreaded killers and it has claimed the lives of many people. Many people get cancer but do not imagine it came from unfiltered shower water. Showering in chlorine-free, filtered water can help remove the risks of developing such cancers.

🎁 BONUS PACK – Say you add a shower filter, but then you figure out you need a new showerhead too! Here is everything you need in one pack: 10-stage shower filter, 5-function showerhead (4"), and lots more! Only one stop, and you've got a complete new look.

🛡100% MONEY-BACK GUARANTEE – AggiePlore are backed by 100% guarantees that you are fully satisfied with your product or receive your money back. We are very confident with our products and have a few industry certificates: ISO9001 / ROHS / FDA / NSF
Prize:
AggiePlore Premium 10-Stage Shower Filter, Bonus 5-Function Showerhead & Extra Replacement Cartridge, Soften Hard Water & Well Water, Remove Chlorine & Fluoride, Promotes Health Of Hair,Skin & Nails
Ends:
March 8, 2018 11:59 PM PST.
Limit:
Restrictions:
ENTER GIVEAWAY