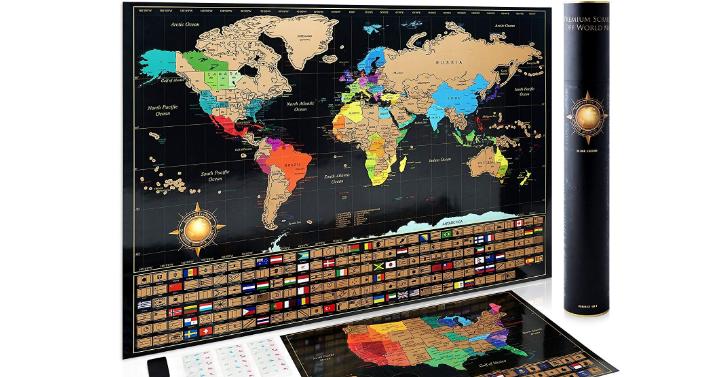 ✈ JOIN US & SEE THE WORLD IN A NEW WAY – Are you a traveler? Does someone you know love traveling? We are travelers and we designed this Large Scratch Off Map (17 x 24") for people like you. All capitals, states or countries were drawn by hand with unstoppable passion for a creative & free world. This Black & Gold Scratchable Map will not only allow to you to track your travels but also share your experiences with your friends. – Travel, Scratch & REMEMBER FOREVER!

🎁 UNIQUE GIFT FOR THE LOVED ONES OR YOU – Everyone loves receiving awesome gifts and a scratch off map set is the perfect one. You can use it to elegantly decorate your room, office or even the pilot cabin!😊 It's never been easier to share your travel experiences with those around you and create engaging conversations. It even fits on the side of your backpack while traveling around the Europe! – Take Action, Push your Limits & Enjoy the Experience!

🎯 THIS BUNDLE IS AN ONE-STOP SHOP FOR YOU – We love our country and selling just a world map just didn't seem right. That's why we went back in the studio and designed the COOLEST Scratch off Map of The Unites States of America (11 x 17"). The vibrant colors and clearly defined borders make every state special and easy to find. WAIT, that's not all! Your package will also include: scratch tool, memory stickers to pin each new adventure and a magnifying strip so you can see the smallest details

✔ BE SURE YOU GET THE BEST QUALITY – We chose the highest quality glossy laminated paper to offer a product that will last AT LEAST until you travel all 195 countries! A thin foil protects the colors during scraping which gives you a nice & clear image of each place you've visited. NO map will ever arrive damaged considering our deluxe tube which protects your wall art 100% of the time. – We don't cut corners!

🔁 WORRY FREE & PROTECT YOUR INVESTMENT: 100% Satisfaction or Money-Back Guarantee. INNOVATIVEMAP is renowned for World Class customer service and thousands of happy customers. Because we trust the quality of our products, if something ever happens with your Premium Scratch Off World Map, WE WILL CHANGE IT or REFUND IT immediately without any costs from your side.
Prize:
Scratch Off World Map Poster + Deluxe United States Map –Includes Complete Accessories Set & All Country Flags – Premium Wall Art Gift for The Loved Ones – Bonus USA Traveler's eBook
Ends:
August 16, 2018 11:59 PM PDT or when all prizes have been awarded.
Limit:
Restrictions:
ENTER GIVEAWAY