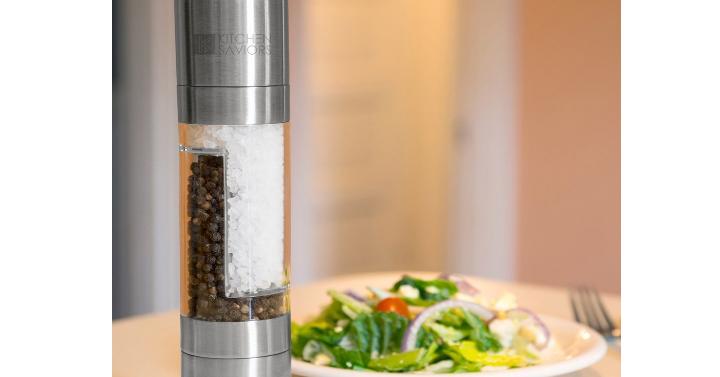 HOW WE'RE DIFFERENT – All Ceramic Grinding Core – Kitchen Saviors utilizes an award-winning innovative design. Our Salt and Pepper Grinder uses a superior ceramic grinding core mechanism (see photo) unlike other grinders that come with cheap plastic inserts that do not stand the test of time. The best materials give you a durable Salt and Pepper Mill which WILL NOT WEAR OUT.

2 In 1 AWARD WINNING DESIGN – The 2 sided, dual chambered construction reduces clutter on your countertop and dinner table making this the only Salt and Pepper Grinder Set you'll ever need. No more misplacing individual shakers! An ergonomic body makes grinding salts, peppers and spices comfortable and effortless.

QUALITY CRAFTSMANSHIP – Along with our dependable all-ceramic grinding core our grinder set is built with high quality BPA-free, tough acrylic and safe, food-grade stainless steel end caps/ dust covers, no more spills to clean!

EASY TO REFILL AND ADJUSTABLE GRIND – Unscrew the 2" stainless steel ends by placing one hand on the clear acrylic body and the other on the metal, twist clockwise, then fill grinder with any salt, pepper or spice of choice. The grind is easily adjustable from very coarse to extremely fine in just a few turns of the adjustment knob. As a BONUS our Cook with Seasonings Recipe eBook (which will arrive to your inbox) will help you start serving restaurant quality dishes in no time.

RISK FREE CUSTOMER CARE PROMISE – Buy the best 2 in 1 Salt and Pepper Grinder on the market with our no-hassle, money-back LIFETIME GUARANTEE! If you have any questions or aren't happy with your order please CONTACT US directly and we will replace or refund your order with no questions asked.
Prize:
Salt and Pepper Grinder Set - Stainless Steel with Recipe eBook & Guide - Pure Ceramic Grinders 2 in 1 Dual Mill - by Kitchen Saviors
Ends:
February 12, 2018 11:59 PM PST or when all prizes have been awarded.
Limit:
Restrictions:
ENTER GIVEAWAY