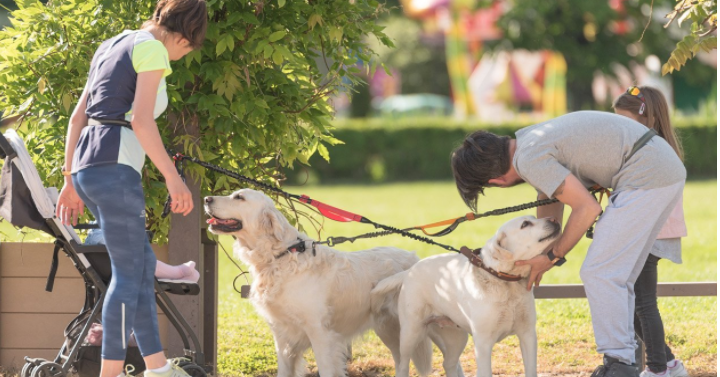 MAKE DOG WALKS EVEN MORE ENJOYABLE: Your dog loves walks for sure, but is it as enjoyable for you? Sometimes holding the leash can be really tiring and it leaves your hand sore. Not anymore! The Hands Free Dog Leash will let you enjoy the walk in the park as much as your dog does. It is ideal for running, jogging and hiking, so that you can have your quadruped friend with you anywhere you go.

EXTRA COMFORT FOR YOU AND YOUR PET: Forget all about tangled leashes around your legs. The Retractable Dog Leash will make long walks with your pet the best time of your day. The two handles of the Dog Training Leash are symmetrical and padded with neoprene, so they'll be very comfortable in your hands even if your dog keeps pulling you whenever it sees a bird! The Running Leash also has three shock-absorbing bungee cords that will keep both you and your dog safe from sudden tugs.

ADJUST IT TO YOUR WAIST AND TO YOUR NEEDS: The belt of the Tactical Dog Leash is adjustable and it will easily wrap around your waist. The Hands-Free Leash can stretch between 27 and 48 inches and once you buckle it, it will stay secure on your waist for the rest of the walk or run. Use it around your waist with a long Leash or with a short Leash for better control. Alternatively, you can even use the Leash in the classical way without the waist belt.

IT LOOKS COMPLICATED BUT IT'S SO EASY: Don't let the many straps and rings fool you. The Hands Free Dog Leash is actually very easy to use. The first part is the belt that works like any regular belt. Is it one? Great! The next part is the Retractable Leash. Attach one carabiner to your belt and the other to your puppy's collar. And it's ready! Now all you need to do is adjust the length of the Leash using the middle metal rings. That was easy, wasn't it?

A LEASH THAT YOU'LL NEVER HAVE TO REPLACE: Why? Because our Hands Free Dog Leash is extremely durable. Made with the best quality materials and having the strongest metal D rings and carabiners, the Reflective Leash will never get ripped up nor break. Use it daily, even if your dog is large and keeps tugging you. You will have this Running Leash for years and it will always be as good as new! Or you can ask for your LIFETIME MONEY BACK GUARANTEE.
Prize:
Retractable Training Leash
Ends:
July 24, 2017 11:59 PM PDT or when all prizes have been awarded.
Limit:
Restrictions:
ENTER GIVEAWAY