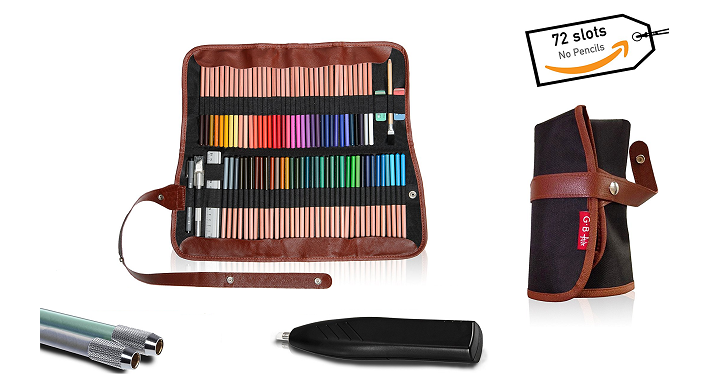 GET INSPIRED BY A QUALITY SET: This unique all-inclusive premium set by GBArt consists of a stylish PENCIL WRAP which will conveniently host all your color collection in perfect order, an ELECTRIC ERASER that allows for precise control in drawing and 2 PENCIL EXTENDERS that offer shorter pencils a firm grip. An excellent art supply organizer that will take your artistic creativity to a professional level!
THE ELEGANT PENCIL WRAP: The ONLY foldable colored pencil wrap with 4-in-1 CLICK-STRAP solution! Gradually build your pencil collection up to handsome 72 pencils, while effortlessly adjusting your case to the most suitable size! Show off your collection proudly and pick a color without agonizing searching in a messy bag! Soft, lightweight and travel friendly, it makes the perfect accessory for your art equipment.
THE POTENT ELECTRIC ERASER: Battery-powered, cordless, compact and lightweight, this premium refillable eraser will offer precise control and make an invaluable accessory for drawing, drafting, architectural plans, arts and crafts. With circular movement and strong motor, it will enable you to erase targeted areas effectively. One-button operation makes it possible to remove marks with only a light touch. (20 eraser refills included).
THE CONVENIENT PENCIL EXTENDERS: The set of 2 pencil lengtheners in gender free green and grey color come in standard size fit for most pencils. Each makes a handy tool to carry on using your prismacolor pencil when it becomes too short to hold, as they offer enhanced balance and better grip for premium precision in your artistic work.
THE PERFECT GIFTING IDEA: Stylishly wrapped in an artistic canvas bag, this premium adult colouring books set is a great solution to replace old-fashion pencil boxes. Offer it to your coloring enthusiast friends, architects or to your children, to boost their constructive drawing pastime. Our free ADULT COLORING E-BOOK will offer 1000+1 original ways to spend your time creatively!
Prize:
Premium Art Supplies Organizer Set : 72-Slot Colored Pencil Case + Electric Eraser + 2 Pencil Extenders In Travel Pouch- Adult & Children Coloring Book Kit – BONUS: E-book (PENCILS NOT INCLUDED)
Ends:
January 3, 2017 11:59 PM PST or when the prize has been awarded
Limit:
Restrictions:
ENTER GIVEAWAY