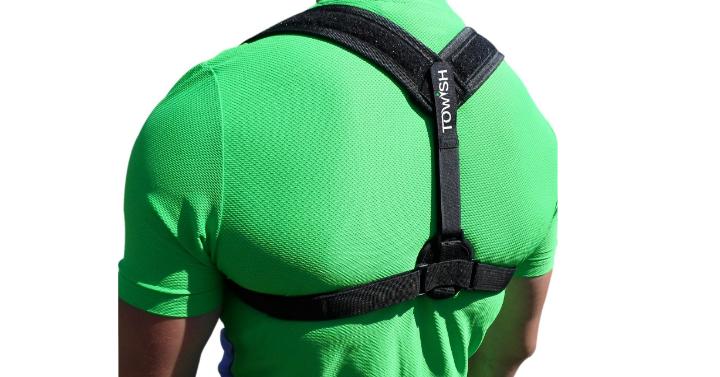 ✅ IMPROVE CONFIDENCE AND RELIEVE BACK PAIN WITH OUR POSTURE CORRECTOR : Our back posture corrector clavicle brace for women and men provides you posture support and helps you with back posture correction by shifting of shoulders forward to achieve the proper back alignment. At the same time, it will provide your upper back with support. Wear the posture corrector regularly and soon you'll have a proud and correct posture!

✅ THE BACK STRAPS OF THE POSTURE AND SPINE CORRECTOR ARE COMFORTABLE AND PAINLESS: You can wear the posture brace all day long either under or over your clothes.This posture corrector for women and men comes with two extra pads that are ALREADY ATTACHED for extra comfort. In this way, the straps won't cut your shoulders and hurt your skin. The clavicle brace may be a medical device, but trust us, it is very comfortable and a pain-free way to correct your posture.

✅ ADJUST THE SHOULDER HARNESS OF THE CLAVICLE SUPPORT POSTURE CORRECTOR AND FIND THE PERFECT FIT: Whether you're a man or a woman, whether you have wide or narrow shoulders, the back support brace will fit you perfectly! Thanks to the 2 extension straps, the posture corrector will adjust to your size ! These extension are ALREADY ATTACHED on the back brace and now is more than 48 inches long, so you won't have any problem wearing it, you can KEEP them on,OR YOU CAN TAKE THEM OFF !!!

✅ GET RID OF YOUR UPPER BACK PAIN, NECK PAIN, SHOULDER AND CLAVICLE PAIN: If you sit for too many hours working, driving or simply relaxing, your back and neck muscles, as well as the core of your body will eventually feel sore. The clavicle support posture corrector will keep your neck and back in an upright position and it will provide you with pain relief. Soon you will see and feel the difference, since your neck and back muscles won't be stiff anymore !

✅ THE MOST DURABLE POSTURE CORRECTOR – A CLAVICLE BRACE AND SHOULDER SUPPORT THAT YOU'LL HAVE FOREVER: Get the posture corrector for women now and you will never have to replace it! And why would you? We use the most durable materials, so there's no chance that your shoulder support brace will ever get overstretched or ripped. The spine and posture corrector for men will always be as good as new ! Try it out and see for yourself.
Prize:
Posture Corrector For Women & Men - Adjustable Clavicle Brace Support for Upper Back Correction + Extension Straps, Pads and E-book by Mbs Concept
Ends:
December 7, 2017 11:59 PM PST or when the prize has been awarded.
Limit:
Restrictions:
ENTER GIVEAWAY