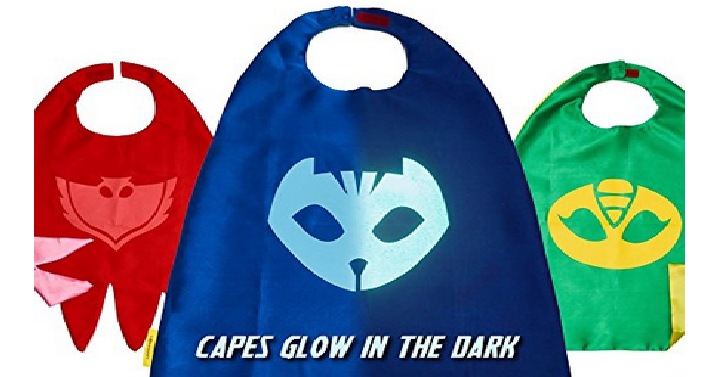 ✅ CREATIVE PLAY! As parents, we want our kids to spend as much time playing creatively, and less time watching TV, right?! What could be more fun than pretending you're Catboy, Owlette, or Gekko? Your sweet child can run extra-fast like Catboy, pretend to fly like Owlette, and demonstrate super-strength like Gekko as they save the day like never before with their very own premium PJ Mask Cape and Costume Gift Set. Great for boys and girls ages 3 to 10 years old.

🎃 GREAT HALLOWEEN & DRESS UP COSTUME TO ENJOY ALL THE YEAR… If your kids are like most children, they probably love playing dress up— daily. With our popular PJ Mask costume kit, your kids can enjoy wearing their glow in the dark costumes while they go trick-or-treating, or just playing heroes with friends. They can enjoy the magic of playing PJ Masks all year long!

👏 ENCOURAGES IMAGINATION AND CREATIVITY- One of the greatest parts of childhood is being able to play dress up toys and costumes. The power of budding imaginations is truly magical. With our premium quality PJ Masks Cape and Mask set, you can encourage more hours of screen-free fun! It can be worn over pajamas or regular shirts and clothing. Imagination is like building a muscle, the more you use it, the bigger it gets!

🎁 MAKES A PERFECT BIRTHDAY OR CHRlSTMAS GIFT! If you are looking for a great gift that has that "extra-cool and exciting" wow factor, then you will definitely love our LÆGENDARY ® PJ Masks Costume Set. It comes with 3 premium glow-in-the-dark capes and masks, for Catboy, Owlette, and Gekko. This stitching is extra soft to eliminate itchiness and scratchiness. The set also includes BONUS bracelets with three Catboy, Owlette, and Gekko charms that can also be used as shoes charms for Crocs.

❤️ ONLY THE BEST FOR YOUR LITTLE ONE…We pride ourselves on providing top quality products and service for our amazing customers. We created our PJ Mask Costumes with extra care and attention-to-detail to provide the best "dress-up" experience for your sweet child. You can add your PJ Masks Costume Set to your cart with total peace of mind, knowing that if you aren't 110% happy with your purchase then we'll provide you a full refund.
Prize:
PJ Masks Costume Kids Toys - Gekko Owlette & Catboy 3 Halloween Party Cape Mask
Ends:
October 12, 2017 11:59 PM PDT or when all prizes have been awarded
Limit:
Restrictions:
ENTER GIVEAWAY