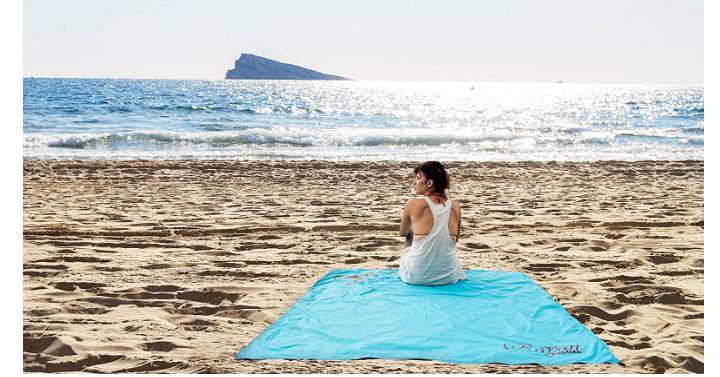 HIGH QUALITY WATERPROOF AND SAND PROOF NYLON

THE ACCESSORY YOU MUST KEEP ALWAYS WITH YOU: This is a must-have equipment for everyone that loves outdoor activities. This is the perfect beach blanket because it is both water resistant and sand proof. Whether you are hiking, running, swimming, cycling or climbing this useful waterproof pocket blanket will assist you every time you need it.

UNIQUE DESIGN IN CONVENIENT DIMENSIONS: The Rayan Deluxe pocket blanket is designed to stand out every time you use it. It features 4 corner pockets for sand and other weights and loops, a magnificent ocean blue color and an awesome tribal tattoo imprint that will impress your friends. It is available in a convenient size for maximum comfort use with dimensions 70 x 56 inches, enough for an entire family.

PEAK QUALITY FOR EXTENDED DURABILITY: This amazing outdoor picnic blanket is crafted with highest quality material to deliver a resilient product for long-lasting use. With nylon fabric, it is puncture resistant, water and sand proof, the ideal beach accessory. Additionally, the special material that is used provides you with an easy to clean, fast to dry and ultrasoft, multipurpose blanket.

ULTRA MATCHING ACCESSORIES: Rayan Deluxe travel-size blanket is offered with a practical carry bag for compact, easy storage and convenient transport, plus 2 carabiners, so it can easily be used to create a shelter from any type of weather phenomena. Additionally, you will receive one aluminum survival whistle as a lifesaving tool that can be used for any sport or family game or as a keychain.

THE PERFECT WAY TO SHOW YOUR APPRECIATION: No wonder why your friends are jealous of your tattoo imprinted outdoor blanket. Give them a reason to smile and order this 3 in 1 specially designed box for them. They will love this thoughtful and multipurpose present. They will definitely enjoy their next visit to the beach with this durable and compact waterproof blanket.
Prize:
Picnic Beach Travel-Size Blanket with Matching Accessories | Sand Proof and Waterproof Cruise Ship Soft Blanket | Compact Ultralight Large Outdoor Camping Tarp
Ends:
December 8, 2017 11:59 PM PST or when all prizes have been awarded.
Limit:
Restrictions:
ENTER GIVEAWAY