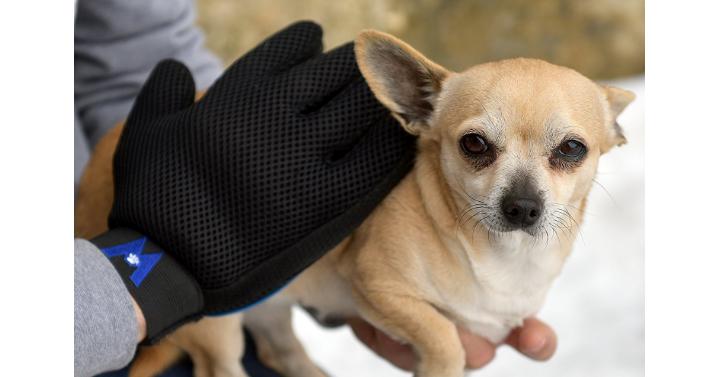 MANUFACTURER PRODUCT LAUNCH SPECIAL !!! See special offers and product promotions below for details !!!

KEEP YOUR FURRY FRIENDS HAPPY WITH Misterrmar pet grooming glove !!! Our deshedding brush glove is engineered to safely and gently remove your pet's loose dead hair – for all hair types and sizes and can be used in wet or dry conditions – and at the same time your pet will get a relaxing massage while you are gently stroking its fur.

BEST SOLUTION TO CONTROL MOLTING !!! By using Misterrmar brush glove you stimulate your pets skin and blood circulation. Easily contours to reach all the places hair hides like behind their legs, under their chest, in their tails, and around their face. Also gives you the opportunity to check for unusual lumps and bumps, parasites or scratches that may need attention. Perfect for anxious & older pets.

GREAT BENEFITS INSIDE AND OUT !!! Everyone loves to be pampered, particularly dogs, cats, puppies and kittens! Great way for calming and relaxing dogs and cats using Misterrmar pet grooming brush glove. This is a pleasurable moment for our pet as they are spending time in our company and the bond between us and our animal grows stronger. Reduces stress and blood pressure – in both of you (and that's been scientifically proven!)

HIGH QUALITY RUBBER MATERIAL – Adjustable velcro strap is easy to secure one handed and comfortable, flexible mesh fits any hand. This grooming tool has little nubs on the palm which remove loose hair and dust from your pet's coat when you stroke it. We make customer satisfaction a top priority !!! FREE REPLACEMENT – NO QUESTIONS ASKED – 100% MONEY BACK GUARANTEE. We guarantee you- and your pet- will love Misterrmar grooming glove. ADD TO YOUR CART NOW !!!
Prize:
Pet Grooming Brush Glove - For Long Short Or Curly Hair Comb - Gentle Massage Tool And Hair Removal For Dogs Cats and Horses - Professional Pet Deshedding Grooming Glove For Healty Coat - Misterrmar
Ends:
November 2, 2017 11:59 PM PDT or when all prizes have been awarded.
Limit:
Restrictions:
ENTER GIVEAWAY