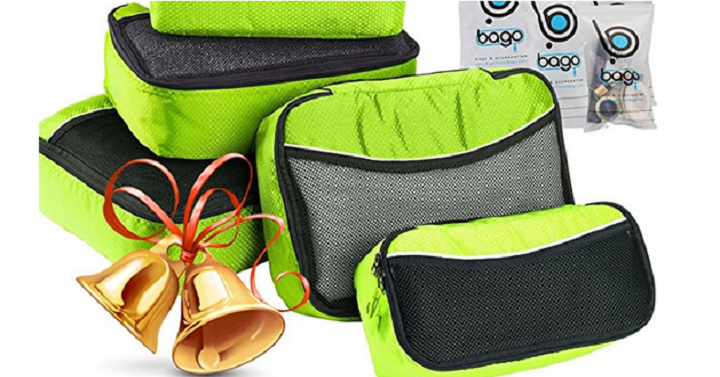 HOLIDAY SPECIAL DEAL – Get Up to 17% Off – See the Special Offers and Promotions Section below. 5 TRAVEL PACKING CUBES EXTENDED VALUE SET: 1 Large Cubes (40.1 x 30 x 10 cm), 2 Medium Cubes (34 x 22.1 x 10 cm) and 2 Slim cubes (30 x 12.5 x 10 cm). FOR THOSE WHO LIKE TO PACK MANY & DIVERSE CLOTHES OR ITEMS FOR FAST DRAW – Keeps you organized! Pack according to travel destinations, weather or events. Share th ebags with other family members, each with his/her own color of cubes.

SAVE TIME AND STRESS finding items and packing your luggage especially when you have a plane to catch, the packing cubes help you get done in a jiffy.

KEEP YOUR HOTEL ROOM TIDY AND SPACIOUS – just put the cubes inside the closet and drawers and avoid the clutter; Do not live off your luggage and locate any item easily! PROTECT YOUR CLOTHES AND LUGGAGE from stains, wrinkles and damages while traveling; the cubes are made of durable rip-stop honeycomb nylon material that tucks your clothes safely inside

AVOID OVERWEIGHT CHARGES AND AIRPORT STRESS; rearrange weights between bags or take 1 cube with you as a carry-on item. Airport Security checks are easier than ever

VALUE FREE BONUS PACK – 6 ORGANIZING DURABLE ZIP BAGS: Do not loss your travel accessories. Keep additional order INSIDE THE CUBES. Keep liquid and other potential spilling material separate and sealed inside your Organizers Cubes. Bring organization to perfection. Get our Travel e-Guides with each purchase.
Prize:
5 Packing Cubes For Travel Luggage or Suitcase + 6 Toiletry Zip Bags Organizers (Green)
Ends:
December 8, 2017 11:59 PM PST or when all prizes have been awarded
Limit:
Restrictions:
ENTER GIVEAWAY