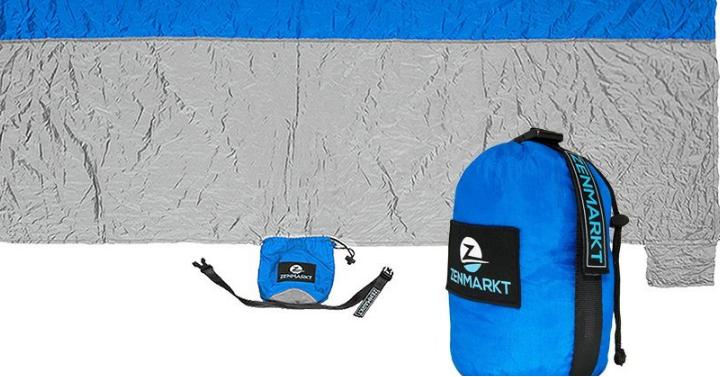 ★ HIGHEST QUALITY COMFORTABLE PARACHUTE NYLON ★ – Our beach blankets are Durable & Strong-lightweight, foldable and breathable. MAXIMIZE YOUR OUTDOOR EXPERIENCE – We GUARANTEE that you will be 100% satisfied!

★ EXCELLENT LARGE OUTDOOR BLANKET ★ – Oversized but Compact. Easy to pack and carry and large enough for the entire family. Weight just over 1 lb and sized (7' x 9') when opened and compressed to 6 inches x 7 inches this product perfectly fits your needs.

★ MULTI-PURPOSE OUTDOOR BLANKET ★ – Our blanket is what you want for any kind of adventure: on the beach, outdoor sports activities, travel, camping, hiking, picnic, in a park, at a concert or festival.

★ ULTRA EXCLUSIVE BEACH BLANKET ★ – Quick Dry, Wind and Sand Resistant, our outdoor folding blanket is easy to secure with the five anchor pockets on any type of surface. You can also use these pockets or the empty pouch to secure store your personal items so you can enjoy your time.

★ TOP CUSTOMER SERVICE POLICY ★ – Zenmarkt is client-oriented and focused on our clients' desire, needs and satisfaction. We polished our product according to this strong policy.
Prize:
Compact Large Outdoor Beach Blanket / Picnic Blanket - Oversized 7' x 9' Made From Strong Parachute Nylon. Lightweight Quick Drying Wind Resistant - Microfiber Towel as Gift
Ends:
September 9, 2017 11:59 PM PDT or when all prizes have been awarded.
Limit:
Restrictions:
ENTER GIVEAWAY