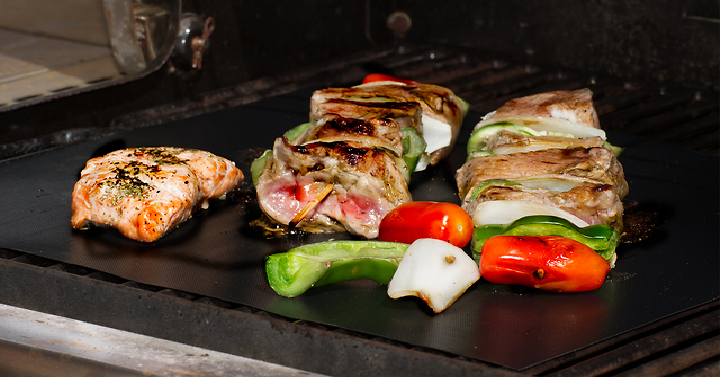 Multipurpose Mat: This RnS Star BBQ Grilling black Sheets made of non-toxic Teflon which is appropriate Grilling Sheets and safe for Micro Ovens, Ovens, Dishwasher and also for Freezer. Almost anything can be cooked on this Non-stick BBQ Grill Mat. Chicken, steak, fish, vegetables, kebabs or whatever you wish to grill directly on the mat.

Durable & Long-lasting: As the raw material is the Teflon which is highly stable components against any circumstances so the 40x33cm or 50x40cm rectangular sheet can be highly durable. Also, highly heat resistance is in nature and can able to remain stable max. 260℃ (500℉) temperature.

Eco-friendly & Reusable: The RnS Star BBQ Grill Mat has no harmful side effects so the user can cook almost anything using this non-toxic mat.

Easy to Clean: RnS Star Non-stick BBQ Grill Mat is fully waterproof and Corrosion resistance, antitrust for the perfectly cooked BBQ. The no-stick mat is easy to clean and reusable about more than 2000-3000 times.

Certification: SGS, FDA & LFGB approved, non-toxic and fully harmless. 100% PFOA & BPA Free.
Prize:
Best Quality Non-Stick Grill Mat - Heavy Duty BBQ Grill Mat or Grill Pad Perfect for Electric, Charcoal and Gas Grill - FDA Approved, 100% PFOA & BPA Free Best Grill Mat - Set of 2 - 7 Year Warranty
Ends:
June 7, 2017 11:59 PM PDT or when the prize has been awarded
Limit:
Restrictions:
ENTER GIVEAWAY