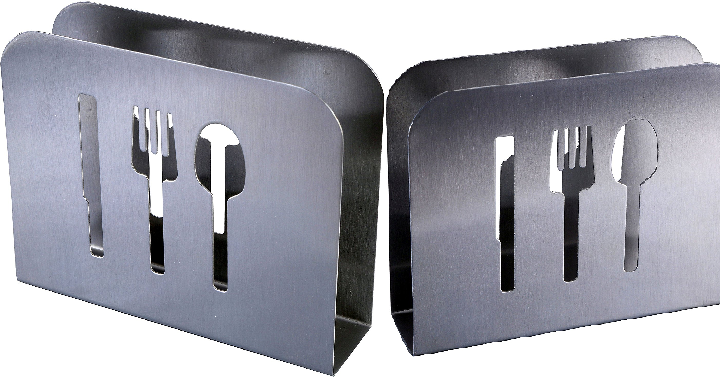 Napkin holder is a terrific choice thanks to its utility and aesthetically pleasing design. This napkin holder will lend your table a sleek modern look. Its unique design is guaranteed to add sophistication and class to any table setting. The borderline design gives you a full and stable support and grips your napkins very well. They will not slouch or fall over. It also ensures that you stop struggling with unwieldy rolls of kitchen wrap and napkins.

Napkin holders are high quality with each corner is processed with meticulous attention to detail. Stainless Steel holder designed with the consumer in mind. Sure to last a lifetime and leave your hosts with pleasant memories. It features a stable base to keep it freestanding and can keep napkins dry and off the table. Convenient, quick and hygienic. This kitchenware provides classic style, practicality and elegance. Perfect as mother's day gift or wedding party present.

Easy-to-grab, one-at-a-time napkin dispensing. High-capacity design and commercial quality that is perfect for restaurant use. Engineered to provide simple and reliable dispensing. Rust resistant, sturdy steel construction that continuously keep your napkin in place. Also great for banquets and formal events. This napkin dispenser is a life saver for those tasty meals you'll be servings up. Easy to wipe clean and dishwasher safe.

Serviette holder is a great addition for the dining room, kitchen counter, picnic table, or office. Provides an appealing visual presence in your dining room table and will bring you lots of compliments. It matches your stainless steel salt and pepper shakers well and takes up less space on your table. Multifunctional holder that can also be used to hold other kitchen accessories. The 3 unique cutouts in the holder looks nice and will not tear your serviette.

Kitchen napkin holder lets you keep your napkins organized and close at hand. Designed to keep napkins organized on kitchen tables and countertops. It is attractive and effective. You will love it for its ability to hold the napkins in place and dispense. Keeps them clean, neat and readily available for when you need them. Comes in a compact measurement that holds your napkins without problems and carefully pierced to let air through to keep them dry.
Prize:
Pro Chef Kitchen Tools Stainless Steel Modern Napkin Holder - Serviette Dispenser with Dinner Eating Utensil Design on Metal Caddy for Home and Restaurant Kitchens
Ends:
June 3, 2017 11:59 PM PDT or when all prizes have been awarded
Limit:
Restrictions:
ENTER GIVEAWAY