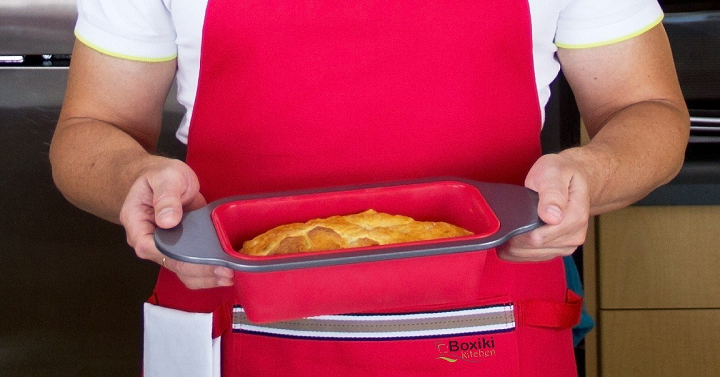 PROFESSIONAL QUALITY NON-STICK BREAD MOLD PAN – Perfect size for even cooking and great results; bread, meatloaf, pound cake, fruit cake, endless recipes and treats

NON-STICK SILICONE – Features textured surface for no-mess release, easy to clean, dishwasher safe; FDA approved food-grade red silicone, BPA-free, non-toxic; safe in oven and freezer

EXCEPTIONAL DESIGN – High quality steel frame (mold) includes convenient handles, makes cooking easier and safer, also protects silicone bread pan from damage; stain and odor resistant

FREE GIFT – "Top 65 Delightful Loaf Pan Recipes" exclusive recipe eBook is your gift from us, a compilation of professional recipes that are simple, delicious and perfect for your new bread pan!

DIMENSIONS: Meatloaf pan itself is 13.25" long x 5.75" wide x 2.75" deep, the inner dimensions are 8.5″ x 4″ x 2.75″. LIFETIME WARRANTY from the manufacturer applies to all Boxiki products.
Prize:
Meatloaf and Bread Pan | Gourmet Non-Stick Silicone Loaf Pan by Boxiki Kitchen | for Baking Banana Bread, Meat Loaf, Pound Cake | 8.5" FDA-Approved Silicone w/ Steel Frame + Handles
Ends:
June 16, 2017 11:59 PM PDT or when the prize has been awarded
Limit:
Restrictions:
ENTER GIVEAWAY