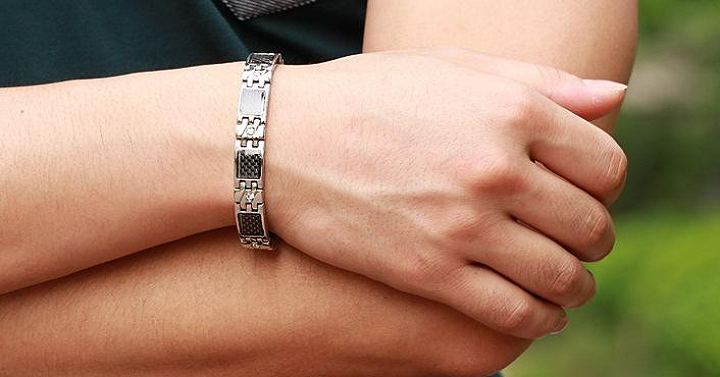 NATURAL PAIN RELIEF. YooliTech Magnetic Bracelets contain high strength rare earth magnetite natural magnets which are capable of healing various types of pains including arthritis pain and back pain. Also, these magnets help to improve blood circulation and flexibility, reduce stress and anxiety, improve sleep and finally renew the overall balance of the body.

TOP-NOTCH QUALITY. YooliTech Magnetic Wristbands are crafted from the finest quality, pure titanium material which makes these healing bracelets super strong, lightweight and durable. You will not feel that there is a bracelet on your wrist. What's more? It is completely hypoallergenic, so it will not irritate your skin.

AN AWESOME GIFT IDEA. This simple yet stylish healing bracelet is an awesome gift idea that you can choose for the VIPs of your life in birthdays, anniversaries, Christmas, Mother's Day, Father's Day or Valentine's Day. This unique and prestigious bracelet will definitely stop their heart at first glance.

FREE BONUSES INCLUDED. We have bundled a free link removal tool and a valuable eBook "Learn to Heal through Magnetic Therapy" with every YooliTech Power Bracelet. You can use this link removal tool to adjust the length of the bracelet to make it perfect for your wrist and this valuable eBook helps you to learn about the healing power of magnetic therapy from A to Z.

100% MONEY BACK GUARANTEE & BEST CUSTOMER SERVICE. We want our customers to be happy, and we ensure it by giving you a peace of mind. For that, we offer a 100% hassle free money back guarantee and would provide 100% cash back in case of any material or workmanship problem. We welcome any suggestion to make your experience even better. So place your order confidently and put us on test!
Prize:
Health Care Bio Magnetic Bracelet | Titanium Magnetic Bracelet for Men and Women | Magnetic Bracelet for Pain Relief, Therapy, Balance and Energy | Silver Color(Men)
Ends:
April 27, 2017 11:59 PM PDT or when all prizes have been awarded
Limit:
Restrictions:
ENTER GIVEAWAY