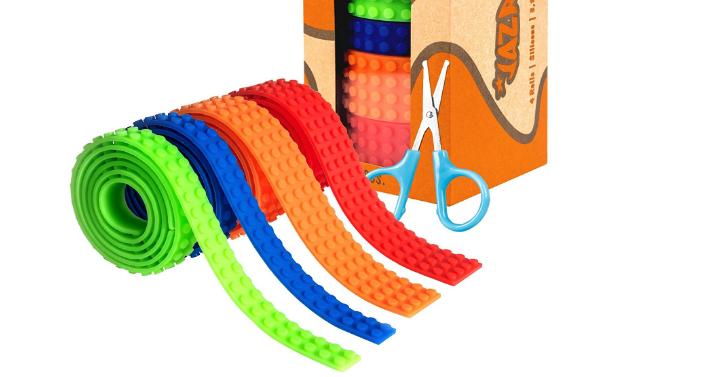 ✔ NON-TOXIC: Latest technology high grade silicone block tape. %100 Worry Free Fun for Everyone!

✔ COMPATIBILITY: It is compatible with LEGO® bricks and all other major brands accessories. Perfect FITS for Ultimate Toy Creations!

✔ MAXIMUM SAFETY: Enhanced waterproof and strong adhesive base. It can be reused more than 100 times without any residue on any surface. You can cut easily and customize it with our safety scissors however you want. Challenge the gravity whenever you want!

✔ PERFECT BUNDLE: 4 Multicolor Rolls in one Package (Orange / Blue / Red / Green), 3 feet (100 cm) / Roll . 2 x 2 Studs & 2 x 4 Studs. The best package to satisfy your needs!

✔ %100 MONEY BACK GUARANTEED QUALITY: Our IMPROVED PRODUCT is the latest and the safest on the market and we're proud to offer %100 worry free satisfaction to our customers who prefer PERFECTION.
Prize:
Block Tape Lego Bricks Compatible MEGA ROLL MULTICOLOR FOR KIDS - 4 Rolls 3.2 Feet of Each Silicone Cuttable Non-Toxic Reusable Flexible %100 ULTRA FUN & CREATIVITY GUARANTEE
Ends:
January 12, 2018 11:59 PM PST.
Limit:
Restrictions:
ENTER GIVEAWAY