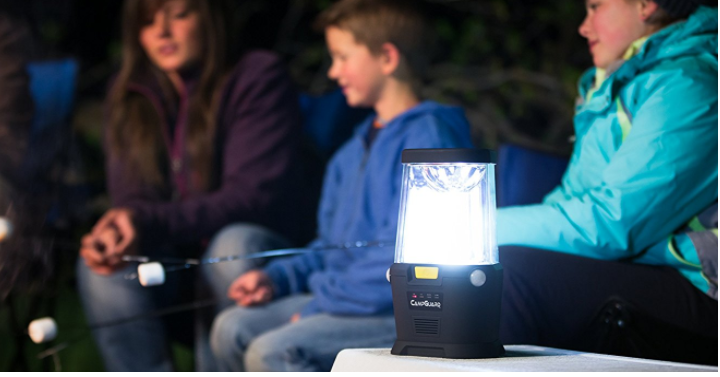 Everything your normal lantern does with several added features that no other lantern has. This is what makes CampGuard the best lantern on the market. With our Ultra Bright CREE LED, we give you the brightest 400 Lumens lasting upwards of 200 hours in high. Please see our Facebook page "Bright Path LED" for the product demo videos at Bright Path LED. Give us a like.

We have your normal high 400 lumen and 200 lumens plus the motion and motion with alarm settings. Designed to not pick up motion from anything smaller then a 16″ (Approx) surface area so squirrels and birds don't set it off. Basically anything larger than a raccoon or larger. Multiple setting so the alarm does not have sound if silence is needed.

360 degree motion light setting at 400 lumens to automatically turn on when you get up when nature calls, then automatically turns back off after 15 seconds of no movement.

360 degree audible parameter setting. same as above only with a siren and voice warning. Alarm will automatically deactivate after no movement for 15 seconds then goes back into guard mode.

Runs on 4 d cell Alkaline batteries (not Included). Patented technology brought to you by Bright Path LED LLC. Vist YouTube for the product video.https://www.youtube.com/watch?v=EbUr5aWAO6w
Prize:
LED Security Lantern
Ends:
February 12, 2018 11:59 PM PST.
Limit:
Restrictions:
ENTER GIVEAWAY