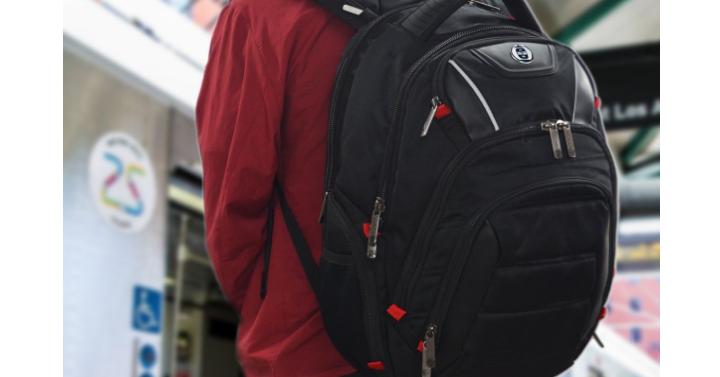 WHILE OTHER SCHOOL BACKPACKS smell like chemicals, are made of poor lining which rips in a week or simply their zippers break after a few uses, our Exclusive School Backpack is made of 100% ORGANIC COTTON which prohibits all harmful smells and the DOUBLE-SEWN seams offer incredible DURABILITY & 5-Year Warranty. The High-quality zippers glade SMOOTHLY even when the backpack is full and they won't break when you NEED the bag the most. – PROFESSIONALS NEVER CUT CORNERS!

MAKE EACH DAY YOUR MASTERPIECE – You want a backpack that almost gets you excited for school, doesn't hurt your shoulders, fits more stuff than you need during traveling or protects your laptop during a crazy day. WE WANT to provide the perfect vehicle toward your goals. Our Sleek Travel & School Backpack can fit a 15" or smaller laptop & iPad, has two side-pockets for water, umbrella or snacks and the SOFT straps offer maximum comfort even during long walk. CREATE LIFE-TIME LASTING MEMORIES!

OUR MISSION IS TO MAKE YOUR DAY EASY & STRESS-FREE! We are real people who use our own products daily. We expect the best for our family and want the same for yours. That's why our Premium Backpack Line represents multi functionality at its finest. They aren't just high school or college backpacks, they will be your companion while traveling, hiking, going to the gym or in a school trip. They take AWAY the stress of packing and allow you to enjoy yourself. WE TRULY VALUE YOUR PRIORITIES!

A PERFECT BIRTHDAY GIFT! If you are looking for a great STUDENT or TRAVELER gift that has that "exciting and extra-cool" factor, then you will love our Large School Backpack. The UNIQUE HANDMADE design and colors are THE RIGHT CHOICE for men & women (even teenagers) and the EASY-TO-PACK feature makes HAPPY even the pickiest person. Your Premium Backpack INCLUDES also a matching ZIPPED WALLET which can be used as pencil case or toiletries bag for a school trip. BE KIND & RECEIVE LOVE!

YOU DESERVE ONLY THE BEST…We pride ourselves on providing only 100% Eco-Friendly Travel & School Products with amazing UNITED STATES based customer service for our loyal community. We designed our Sleek Backpack with continuous research to provide the most COMFORTABLE experience during classes or traveling. You can add your Exclusive Backpack to your cart with total peace of mind, knowing that if you aren't 110% happy with your purchase, we'll provide you a FULL refund.
Prize:
School Backpack for Women Men | 13" Mac or Smaller Laptop Travel Black Backpack | 100% Organic Cotton | Perfect for High School, College, Hiking or Gym | BONUS Matching Zipped Wallet
Ends:
February 21, 2018 11:59 PM PST.
Limit:
Restrictions:
ENTER GIVEAWAY