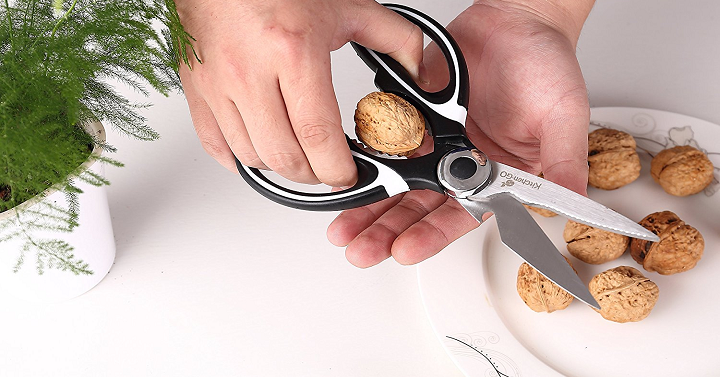 ✅ PREMIUM DESIGN & QUALITY – Our Kitchen Shears are MODERN AND ELEGANT and fit your kitchen perfectly. Their Heavy duty and extremely sharp, stainless steel blades have rust and corrosion resistance. The scissors structure is thick and stable for extra strength and durability.

✅ EASY TO USE – User friendly kitchen scissors are a perfect addition to any kitchen, make food preparation easier and faster. Black and white handles are designed to provide you a comfortable non-slip grip and enable control and safe use. Universal grip suitable for both right and left handed.

✅ MULTIFUNCTION WORKING TOOL – Our scissors perform extraordinarily well in all major kitchen tasks; from chopping herbs, through cutting bones, ribs, chicken wings, meat and vegetables. Innovatively designed, serrated blade also allows you to remove fish scales. With the steel teeth, located between the handles, you can open toughly sealed bottles or even crack crabs or nuts.

✅ PERFECT SET – Our shears comes with a PRACTICAL GIFT The MAGNETIC HOLDER! Hung the scissors with your other best tools and the handy tool will quickly become your favorite one for everyday uses. This solution will save valuable drawer space and provide more convenient access to your shears.

✅ CUSTOMER GUARANTEE – Our Scissors can be used by everyone from stay-at-home moms to professional chefs. It's a prefect Christmas or New Year gift for your family and friends. However, if you're not completely satisfied, we'll give you a 100% refund within 90 days of purchase. Click 'Add to Cart' now and enjoy!