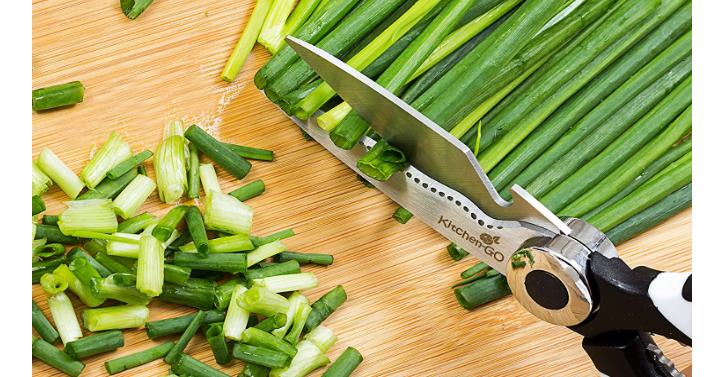 ✅ Professional Top Quality Blades: pendali Professional Heavy Duty Kitchen Shear's blade are made from premium, durable, TOP grade stainless steel that is rust and corrosion resistance. Ultra-sharp blades make every cut very precise and smooth, let you to easily complete tasks, the multipurpose utility shears will never fail you. Perfect as herb shears, fish shears, food shears, vegetables shears etc.

✅ Comfortable and Durable Handle: pendali kitchen utility scissors handles are made of high quality ABS material, the metal go all the way through the handle and very Strong. It is ergonomically designed for right and left handed individuals, very comfortable. The safety clip at the end of the handles prevents the shears from opening accidentally and convenience hang.

✅ Excellence Performance for Kitchen Tasks: Pendali's ultra sharp poultry shears deliver highly precise cuts with minimal effort. So you can easily to make precise cuts most kinds of food, bones, cutting meat, turkey, butterflying poultry, chicken, scraping the scales of fish, cutting vegetables, fruit, various foods, herbs, etc. The unique " U " shaped groove in the blade allows you to easily fasten the bone and cut the bone.

✅ For More Outside Tasks: With excellent performance, you'll use it for many outside tasks, not just kitchen aid scissors! Such as cutting cardboard, paper, hard plastic, trimming the limbs of trees, pruning the rose bushes that will make your life so much easier! A great gift for Mom, Dad, or a loved one.

✅ Easy to Maintain: When you use the pendali multipurpose scissors to accomplish a series of tasks, simply put them in the dishwasher or hand wash them. The high quality stainless steel won't get rusty and it's will always be as good as new. if for any reason you're not satisfied with the utility shears we will give you your money back. this is a 100% risk – free purchase, so don't hold back!
Prize:
Kitchen Scissors, pendali Multi Purpose Heavy Duty Kitchen Shears Ultra Sharp Stainless Steel, Spring Loaded Handle, Premium Utility Scissors for Chicken, Fish, Poultry, Herbs, Vegetable, Beef&BBQ
Ends:
June 18, 2018 11:59 PM PDT or when all prizes have been awarded.
Limit:
Restrictions:
ENTER GIVEAWAY