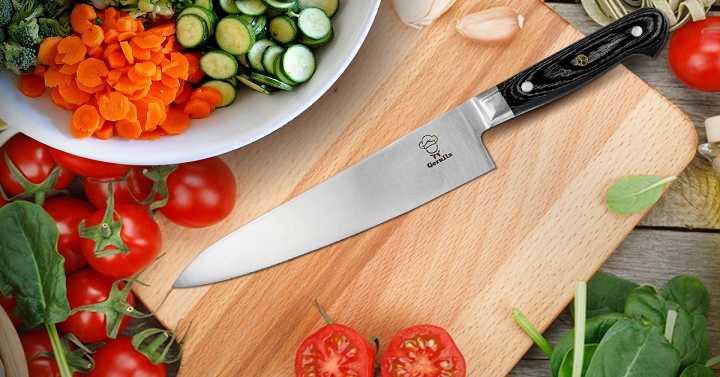 ✅ Gerulla 8" Chef Knife is made of German Quality 1.4116 High Carbon Stainless Steel that gives you a rust free, strong and sturdy blade that can cut easily trough any food ingredients. The knife comes in a stylish red interior black gift box that make it a perfect gift for special occasions.

✅ Well balanced blade with an ergonomic, water resistant, nonslip Pakka wood handle gives an excellent grip and let you use the knife easy and safe. You can easy slice a large watermelon or do a thin and precise cut of an onion or slice a piece of meat for the barbeque.

✅ Razor sharp blade specially treated for staying sharp longer; providing excellent edge retention and making fine cuts effortlessly. You do not need to do extra movements forward or backwards when cutting. Most of the cuts will be made by a single move.

✅ Hot or cold use? No problem; you can easily cut through hot or ice-cold food products without damaging or losing the sharpness of the blade. Slicing hot roasted piece of meat or cut a piece of cold fresh meat direct from the fridge make no difference to quality and easiness of the cut

✅ Considering the quality of materials, we are 100% sure this product will last a life time. Therefore we offer life time warranty against defects in material and workmanship.
Prize:
Gerulla kitchen knife - 8 inches professional german high carbon stainless steel blade, razor sharp chef knife, balanced pakka wood handle in gift ca
Ends:
December 19, 2017 11:59 PM PST
Limit:
Restrictions:
ENTER GIVEAWAY