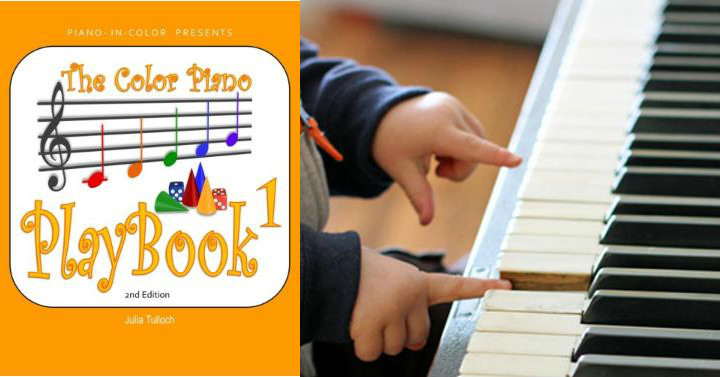 Teach preschoolers to play the piano and read music with the Color Piano Playbooks!
Jingle bells, Itsy Bitsy Spider and Mary had a little lamb, are some of the tunes your preschooler will learn to play using correct fingering and reading music! As well as playing the piano, preschoolers will have fun with board games, worksheets, flash cards, composition and other activities.
Notes begin in rainbow-colors, and are later replaced with black-and-white music. There are also lots of free resources available on www.pianoInColor.com/playBook to help preschoolers on their musical journey, so even parents without a musical background can help their preschooler to play.
This 2nd Edition of the PlayBook has a stronger emphasis on hand position and playing on the fingertips. It also moves away from the traditional "5-finger C Position fingering", encouraging students to use different fingers on Middle C.
This is a book for playing from, coloring in, cutting out and drawing in. So grab a pencil, crayons, a few game board counters and a piano, and let the fun begin!
Prize:
The Color Piano PlayBook 1: Treble Clef - Right Hand (Volume 1) Paperback – June 1, 2016
Ends:
March 25, 2017 11:59 PM PDT or when the prize has been awarded.
Limit:
Restrictions:
ENTER GIVEAWAY