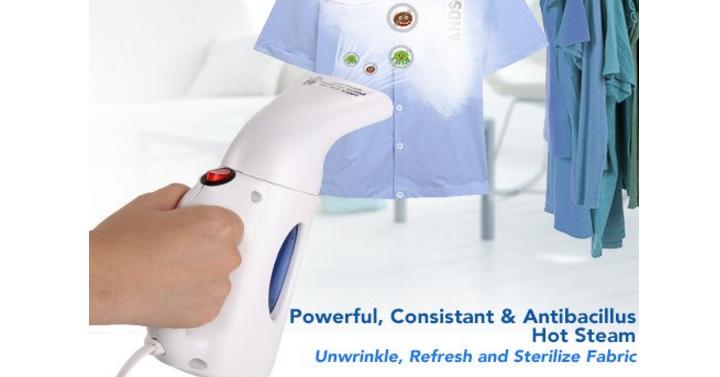 ✅ NEW DESIGN AND TECHNOLOGY: The SWIFTIX HANDHELD GARMENT STEAMER MODEL H-108B has a new nozzle design that distributes steam powerfully and consistently to remove wrinkles and creases; perfect for home or travel as it is compact and stores easily; the iron that holds 130 millimeters of water that offers 7-10 minutes of continuous steaming comes with a carrying pouch and instructions in a gift box ready for giving

✅ FAST HEAT-UP FEATURES: With the white SWIFTEX PORTABLE FABRIC IRON, it is easy to use by plugging it into a 120v electrical outlet as it quickly heats up in less than 2 minutes with a warm steam, ready to use on clothing, bedding, drapery, tablecloths, or other fabrics without damaging them; please do not immerse it in water and do not to turn it upside down or past a 45-degree angle; it is recommended to hang clothes on a hanger when using this product;

✅ AUTO SHUT OFF: The SWIFTIX POWERFUL HANDHELD GARMENT STEAMER is safe to use as it has an automatic shut-off function when the unit gets too hot or the water level is too low; you do not have to worry if you forget to turn it off as it does it itself; the iron saves time and dry cleaning bills while quickly and efficiently removing wrinkles and creases plus odd smells, killing over 90% of the germs on the material;

✅ BONUS GIFT INCLUDED: Every high-quality CLOTHING STEAMER THAT IS EASY TO USE comes with a special black drawstring travel pouch so it can be packed in a suitcase, put in a drawer, or carried in a tote or backpack; this appliance makes a great gift for those on the go who have little time and want to look presentable or avoid going to the dry cleaners; it's a practical device that makes fabrics smooth and straight in minutes, saving you time and money;

✅ 2 YEAR GUARANTEE: We strive to provide you with the highest-quality product and the best customer experience possible so offer a 2 year warranty from date of purchase; if you're not entirely satisfied, please contact us immediately; order with confidence your SWIFTIX HANDHELD GARMENT STEAMER MODEL H-108B that comes with a FREE Travel Bag; take it with you wherever you go if you want your clothing to be wrinkle-free.
Prize:
Steamer For Clothes. Handheld Clothes Steamer with Fast Heat-Up and Automatic Shut Off-100% Safe. Powerful & Compact Garment Steamer for Travel/Home. Portable Fabric Steamer + Travel Pouch by Swiftix
Ends:
January 13, 2018 11:59 PM PST or when the prize has been awarded.
Limit:
Restrictions:
ENTER GIVEAWAY