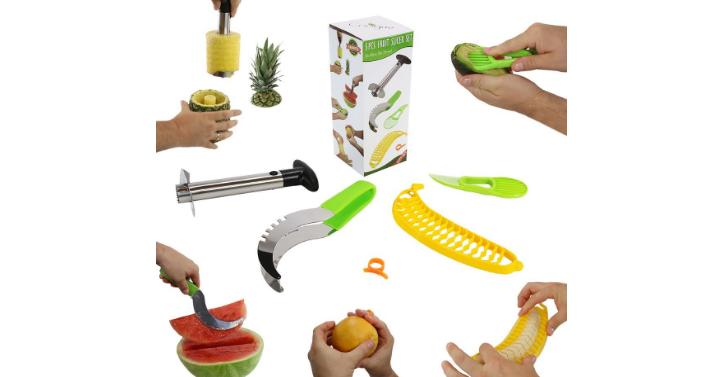 ★ PINEAPPLE SLICER / CORER Just whack the top off and use the slicer like a cork screw, cutting the flesh out effortlessly while leaving the core in the shell. The pineapple peel remains intact so you can use it for serving a drink or fruit salad.

★ BANANA SLICER Safer than a knife, just peel the banana off and use the slicer to easily slice your banana in one quick motion. Kids will love to slice their own bananas now!

★ WATERMELON SLICER Discover a whole new way to enjoy your watermelon, this two in one utensil combines the functionality of a knife with the handiness of tongs to easily serve slices of watermelon.

★ AVOCADO SLICER This fantastic 3 in 1 utensil will make your cooking experience amazing, cut, the avocado remove the pit without damaging the fruit and easily slice it.

★ ORANGE PEELER This is a simple and practical way to peel oranges, the blade cuts without damaging the orange and easily remove the peelings with the edge.
Prize:
#1 Fruit Slicer Set of 5 by Coogue VALUE PACK: Pineapple Corer, Watermelon Slicer, Avocado Slicer, Banana Slicer, Orange Peeler. Enjoy your cutter knife tools a kitchen gadget to have fun with!
Ends:
August 17, 2017 11:59 PM PDT or when the prize has been awarded.
Limit:
Restrictions:
ENTER GIVEAWAY