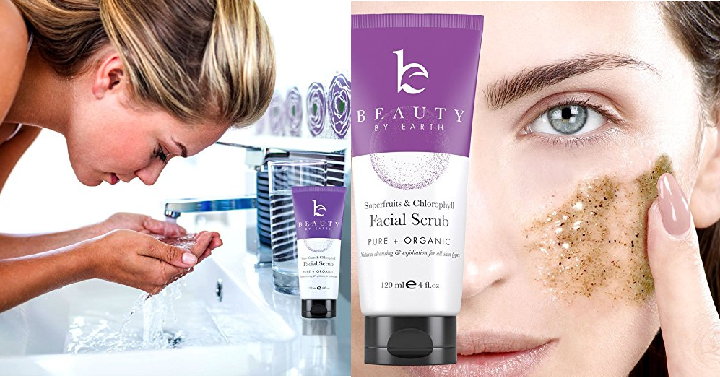 DISCOVER YOUR BEST COMPLEXION: No face is immune to the effects of a long day. Clear away dirt, oil, dead skin, and grime with our natural facial scrub. We've filled our face scrub and cleanser with ingredients that hydrate, repair, and support your skin while gently cleaning away anything that could tarnish your complexion. The result? A face that feels light, clean, clear, and happy.

KICK ACNE TO THE CURB: As one of the best acne face washes out there, our facial cleanser is the perfect way to keep breakouts at bay. Use it 2-3 times a week to support healthy skin and discourage breakouts. Because it contains chlorophyll and fruit extracts, our natural cleanser has antimicrobial properties. That means it will discourage the bacteria that can lead to breakouts while supplying your skin with plenty of hydrating and anti-aging compounds.

PUT YOUR BEST FACE FORWARD: It's nearly impossible to feel confident when your face isn't looking its best. That's why we designed our facial scrub to provide two complexion-boosting benefits in one. Not only does it clear away makeup, dirt, and grime, it also gently exfoliates. That means anyone of any age, gender, or skin type can experience how great it feels to greet the world with skin that's incredibly clean, clear, and glowing.

FEED YOUR SKIN: Your skin is hungry – give it what it craves! We've carefully formulated our face scrub to contain the nutrients and compounds your skin needs to look its best. We've also left out anything toxic, irritating, or dangerous, so you'll never have to worry about what you're putting on your body. Completely natural and 100% cruelty free, this scrub will support your skin from the outside in.
Prize:
Facial Scrub & Cleanser, Natural & Organic Ingredients, Chlorophyll & Super Fruit Face Exfoliating Wash & Microdermabrasion for Acne, Dry or Sensitive Skin for a Deep Pore Cleanse, Made in USA
Ends:
March 1, 2017 11:59 PM PST or when all prizes have been awarded
Limit:
Restrictions:
ENTER GIVEAWAY