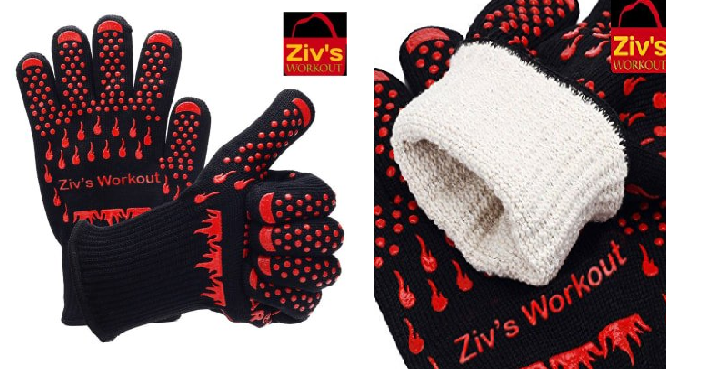 FLEXIBLE – NOTHING TO SLIP OFF YOUR HAND: This superior quality pair of BBQ gloves with a 5-finger flexi-grip construction, offers a wide range of movement. Their snug-fit allows you to do and firmly hold anything.

MAXIMUM HEAT RESISTANCE AND PROTECTION: EN407 certified, these oven and grilling mitts can withstand temperatures up to 932˚F making them suitable not only for cooking, but for other uses as well, where high temperatures are involved.

MATERIALS OF THE FINEST QUALITY & BONUS GIFT: Our pair of grilling gloves uses aramid fiber on the exterior, which is a material that can be more tightly woven than others, and along with the breathable cotton lining on the interior, you will feel nice and cozy inside no matter what the temperature of the item you are holding. Plus, with every purchase of our gloves, you also get a BONUS pair of bear claws for ultimate control over you meat!

PERFECT FOR HANDLING SMOKING HOT SITUATIONS: The irresistible chef's choice. Ideal for BBQ, smoking, grilling, baking, and many other uses around the kitchen, oven or fireplace. A heavy duty pair of extreme heat resistant mitts for indoor or outdoor use. Additionally, with every pair, you will receive a pair of meat claws for shredding, handling and carving meat, absolutely free of charge. The fullest cooking experience!

ABSOLUTE CONVENIENCE: As they both fit either your left or right hand, without the need of taking a moment to think which goes where. A most useful feature, especially when dealing with cooking and heat and time is of the essence.
Prize:
Extreme Heat Resistant 932˚F Gloves
Ends:
January 21, 2017 11:59 PM PST or when all prizes have been awarded.
Limit:
Restrictions:
ENTER GIVEAWAY