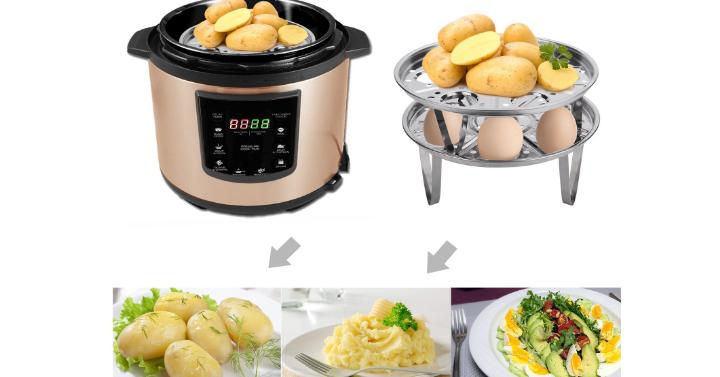 ★HIGH QUALITY: Egg separator filter and egg steamer rack is made of durable, food grade stainless steel. Corrosion resistant steel against rusting and high polish.

★FUNCTION: Egg white separator is a strainer, to separate egg white and yolk. Steam rack is a steamer cookware, to make perfect hard boiled eggs, to steam food, heat food without oil. Much healthier and easier.

★CLEAN: Dishwasher safe for egg white yolk separator and cooking steamer rack inserter. Use a dishcloth, cleaning cloth, towels, wipes. Do not use steel wool, scouring pads, abrasive cleansers as this will tarnish the stainless steel exterior.

★PACKAGE: What you will get – 1 egg yolk separator and 2 detachable and stackable steam racks.

★WARRANTY: We offer 100% refund for lifetime if rust.Feel free to contact us please if any concerns on egg strainer and steamer rack.
Prize:
Egg Separator Food Steamer Rack - 3 Pack Stainless Steel Egg White Yolk Separator Filter & Stackable Instant Pot Accessories Egg Steam Racks, Vegetable Steamer Rack Trivet
Ends:
June 21, 2018 11:59 PM PDT.
Limit:
Restrictions:
ENTER GIVEAWAY