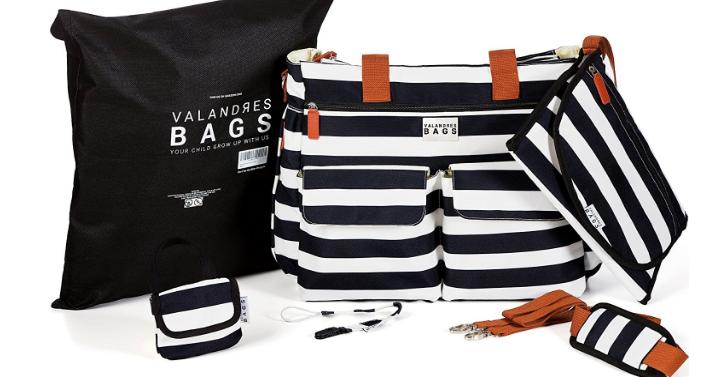 ❤ CLAIM YOUR SPECIAL DIAPER BAG BUNDLE NOW: We always like to offer more: unique CHANGING PAD cushioned with 4 pockets in order to change your newborn fast, anywhere-anytime (Sold at $15.95) +PACIFIER POD in order to prevent bacteria (Sold at $7.99) + PACIFIER CLIP to avoid falling and washing it all the time (Sold at $2.99) + universal STROLLER STRAPS (Sold at $5.95) + SHOULDER STRAP – hands-free (Sold at $4.95) + GIFT PACKAGING. GET BEST VALUE today. The offer is limited.

❤ A LOT OF SPACE and SMART ORGANIZATION (16 POCKETS) according to our customer feedback. We improve this diaper bag for moms so they can easily carry ALL essentials. It is offered with 16 POCKETS, it is easy to clean, you can easily find everything, has a LIGHTER interior and 1 INSULATED pocket for kids milk/food and your drink. It is PERFECT for BABY SHOWER GIFTS for boys and girls.

❤ SAVE TIME AND MONEY – Because we know a baby needs a lot of things and there are many expenses we create this bundle that will be more convenient and faster than to buy all of this accessories one by one. When you raise a baby you don't have so much time and in order to make your life easier, compared with others diaper bags, we improve the quality of material and now you can wash it fast and easy at the machine without clearing the color.

❤ QUALITY FIRST: We know the quality is a critical point because there are in the market a lot of poor quality diaper bags but we want to change this forever and focus on our customer's happiness. With high-end quality materials and detailed quality check, we deliver a baby bag that meets your standard and offers you the best experience. You can check also our customer's opinion to be sure you make the smartest choice.

❤ 100 Days WARRANTY – Buy with confidence & protect your investment: Our bags are tested and used by thousands of moms, but if you are not satisfied, we'll do our best to fix any situation as soon as possible. Check or ask how people fell using our products: It's usually things like "In love" ; "Amazing" ; "Very happy with my purchase". At Valandres no matter what you are completely covered by, click the add cart button and enjoy our product.
Prize:
Diaper Bag Bundle – 6 Accessories – 16 Pockets [1 Insulated] to Stay Organized – Valandres Nappy Bags are Very Roomy, Durable, Stylish and Comfortable
Ends:
August 6, 2017 11:59 PM PDT or when all prizes have been awarded.
Limit:
Restrictions:
ENTER GIVEAWAY