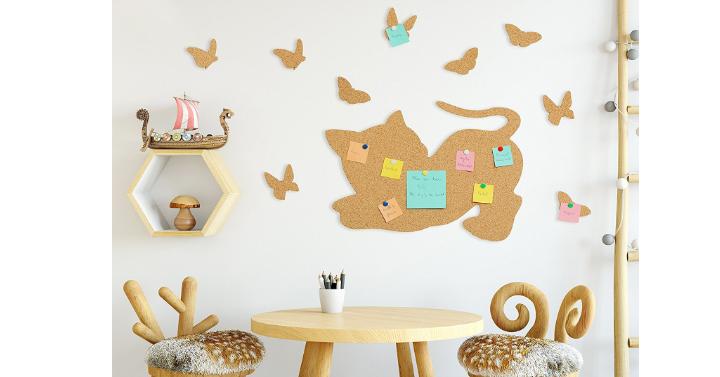 IDEAL FOR GIFTS FOR WOMEN, GIFTS FOR GIRLS, GIFTS FOR KIDS– I want you to be extremely glad, so I am offering a bonus for you: I will bring 9 of my butterflies friends that are as sticky as I am. Also I am coming together with 20 colorful thumb tacks. I am 16.5 x 12 inches, so you can stick me on a smaller surfaces, but I am also large enough so you can display a lot of post-it. I am great for organization, craft supplies or crafts for girls. So what are you waiting? Bring the joy to your house.

EASY PUSH OF THUMB TACKS AND NO HOLE LEFT – The 100% cork I am made of is such a good quality material that once you use a push pin, the hole doesn't stay there forever. Also, you won't harm your fingers to pin the thumb tacks, as it happens to other cork bulletin boards from your wall space. They can be pushed extremely easy.

NON-TOXIC SELF-ADHESIVE BACK. You can put me everywhere due to the high quality self-adhesive back. The only thing you have to do is to remove the protective foil and stick me wherever you wish. You don't need a mounting hardware for me. I can stay everywhere you want: on the wall, on the glass, wood, faience or hone. My back is to tacky that I stay perfect even on textile materials. If someday you decide to move me to another place, don't worry: my adhesive won't damage your walls.

THICK AND DURABLE 100% CORK – Unlike other bulletin corkboards I have 7mm thickness, so you don't have to worry that the pins will harm your walls. Being that thick, you can handle me very easy without worrying that I can easily damage, even if I am not framed. Why would you choose a square pinboard when you can have a playful kitty cat, especially if you are a cat lover or you want to make a cat lover gifts?

NEVER MISS IMPORTANT THINGS – Even if I am a cat cork bulletin board I can help you to have an easier life. With my help you can leave emotional messages for your lover, husband / wife, decorate your wall, organizing projects at your home office, hang photos, keep organized your jewelry, earrings, plan your daily activities, make nice decorations for your kids room, home decor boards, great ideas for women, gifts for teen girls. Every important thing will be in front of your eyes.
Prize:
EmKi Cork board Bulletin board 16.5"x12", Self-Adhesive back, easy to install, fully tackable. Bundle 20 color thumb tacks and 9 butterflies. Ideal for
Ends:
December 29, 2017 11:59 PM PST or when all prizes have been awarded
Limit:
Restrictions:
ENTER GIVEAWAY