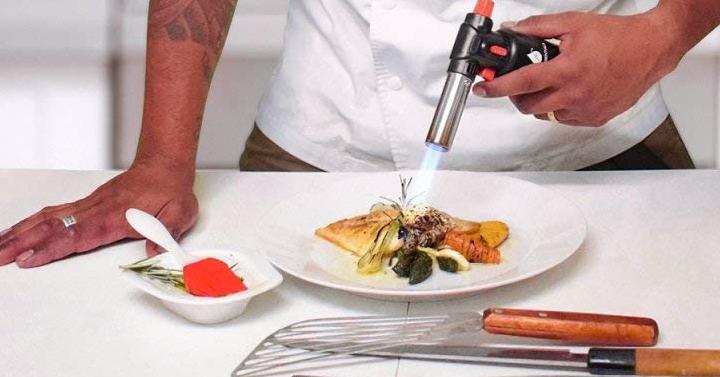 TAKE YOUR COOKING PASSION TO THE NEXT LEVEL >> Create Michelin-star dishes couldn't be easier with our kitchen blow torch. Sear meats & fish, caramelize & quickly melt toppings, reduce prep and finishing up times for sous-vide dishes at home is fun with our cooking torch for creme brulee.

PREMIUM QUALITY DESIGN TO LAST YEARS >> Designed for the needs of chefs and food lovers, our professional chef torch has heavy duty reinforced nylon buttons that will not overheat nor melt, while the head and removable stand are made of ABS to resist bumps and falls. Safety is paramount, so we equipped it with two strong aluminium chambers, a SAFETY LOCK with on/off switch, an angled nozzle to protect your fingers and FUEL GAUGE WINDOW for refill indication.

DESERVE THE BEST, LIKE PRO CHEFS >> You deserve the best tools when creating a meal for yourself and family. Our cooking torch WORKS WITH PRECISION AT EVERY ANGLE allowing great control and unrivalled performance to reach every surface. So easy, it takes one hand to operate: switch the safety lock down, press the trigger to light your kitchen blow torch, easily regulate the flame intensity with your thumb.

ONE COOKING TORCH, TONS OF APPLICATIONS >> Seriously, calling it just creme brulee torch sounds a bit reductive, when in reality, you can use around the house and outdoor, for welding small plastics, creating jewlery, strip paint, give a vintage look on wood or metal, resin painting or dabbing, light up a BBQ, campfire or your cigar, regardless our blow torch will over-perform. Everytime.

100% RISK-FREE, NO HASSLE PURCHASE AND 3 YEARS WARRANTY >> Our purchase comes with a 90-day money back guarantee and a 3-year Warranty!. We believe in our products, if for any reason you simple don't love it just message us for a full refund or replacement, whichever you wish. Your trust and business mean that much to us. Go for the win, get yours now!
Prize:
Cooking Torch For Creme Brulee - Kitchen Blow Torch, Professional Chef Torch Lighter Butane Refillable - Adjustable Flame, Safety Lock, Full Gas Window - 3 Years Warranty
Ends:
Oct 16, 2018 11:59 PM PDT or when all prizes have been awarded.
Limit:
Restrictions:
ENTER GIVEAWAY