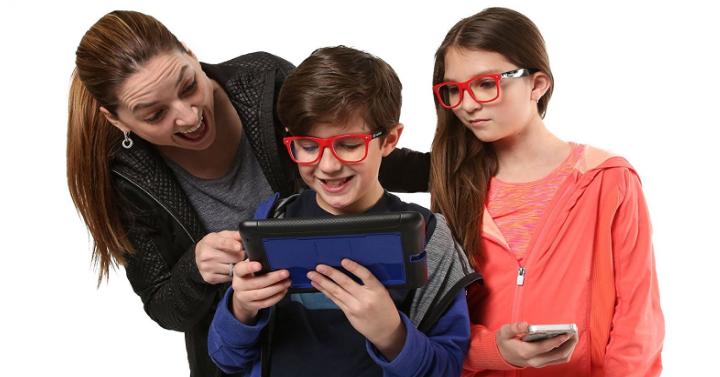 INCLUDES COMPUTER GLASSES, GLASSES CASE AND EYEGLASS CLEANING CLOTH: The best low blue light glasses for kids on the market, with an additional leather case and cleaning cloth. Styles that kids love. Protection that kids need. Ages 3-10.

PROMOTES EYE HEALTH: Little Eagle's FDA Approved computer eyewear promotes eye health benefits such as reducing the risk of eye strain, screen-time induced sleep cycle disturbances, help protect the eyes from dryness and lower the risk of depression. Our glasses may also promote headache relief stemming from prolonged exposure to blue light.

FUN COLORS: Our color selection includes red, yellow, pink, blue and orange, all in the popular wayfarer sunglass frame style.

YELLOW COATING: Our special yellow coating REJECTS harmful blue light from the 420-478nm wavelengths and lets non-harmful blue light in. Our glasses block 30-48% blue light, which is the perfect range for kids.

BLUE LIGHT IS EVERYWHERE: Whether your kids use screens to watch TV, play video games, read books on iPad or do homework, the blue light emitted from screens everywhere has become a big part of everyone's lives. Make the intelligent decision by minimizing exposure to a type of light that our genetics have simply not prepared us for.
Prize:
Computer Glasses for Kids [Red] - Low Blue Light Eyewear that Promotes Eye Health - Eye Strain, Headache Relief and Sleep Improvement - Includes Glasses Case + Eyeglass Cleaning Cloth
Ends:
March 8, 2017 11:59 PM PST.
Limit:
Restrictions:
ENTER GIVEAWAY