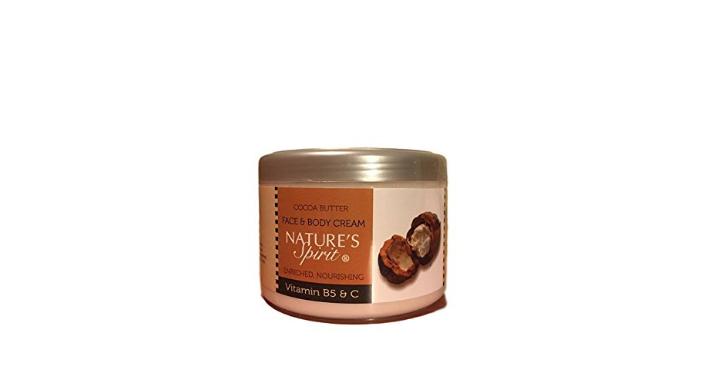 ENRICHED, NOURISHING – Thanks to it's great and effective ingredients your face will be so enriched and nourished like never before!

VITAMIN B5 – When lotions, creams, ointments and formulations containing provitamin B5 are applied to and absorbed by the skin, this provitamin is transformed into vitamin B5 (pantothenic acid), which has natural broad abilities to moisturize, soothe, heal and regenerate the skin.

VITAMIN C – A water-soluble vitamin and powerful antioxidant, it helps the body form and maintain connective tissue, including bones, blood vessels, and skin.

NON-GMO – Due to the European Law, it is prohibited to use GMO (genetically modified ogranisms) in any kind of product.

MADE IN CROATIA – It was Made in Europe, which is famous for it's good quality products, which means, Nature's Spirit is a very effective cream.
Prize:
Cocoa Butter Face & Body Cream by Nature's Spirit - Enriched, Nourishing with Vitamin C and B5 - 10 fl oz
Ends:
January 19, 2017 11:59 PM PST or when the prize has been awarded.
Limit:
Restrictions:
ENTER GIVEAWAY