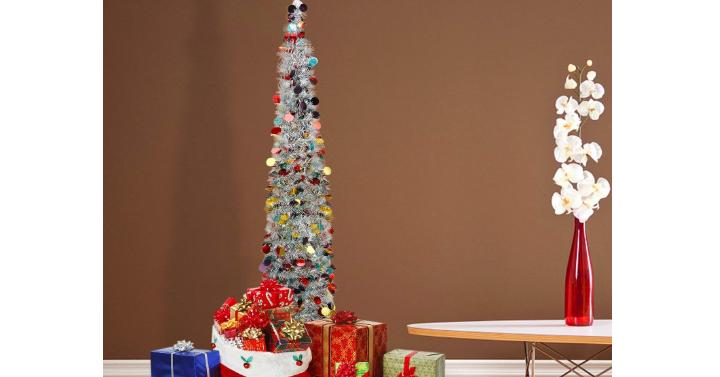 1. LED STRING LIGHTS MATE TREE: Glittering & Sparkling. Good Partner for LED String Lights. It's loaded with round shimmering sequins. Stunning Reflective Colors. Glittering and sparkling in light, including sunlight & lights & candles & open fires. Decorate and DIY the tree with lights, particularly multicolor RGB LED Lights. More beautiful in the dark. During day time, the tree is sparkling when the sunlight is on it. Enjoy the sparkle and magic of the light.

2. SHINY FOUR-SEASON CHRISTMAS TREE: Non-Traditional. It can be used throughout the year. NOT JUST at Christmas. With this tree, you will be at Christmas EVERY DAY. And It can be converted into a Lighted Christmas Tree by decorating it with string lights. PLEASE NOTE: No Led String Lights included.

3. COLLAPSIBLE & REUSABLE: It has a small footprint making it perfect for tight spaces or limited apartments. The base is made of plastic and the poles are metal. Easy to assemble & take down & store for reuse. Takes up little space when displayed or when stored.

4. PARTY & FESTIVAL DECORATION: Very sparkly. A great addition to party decorations. Party Occasion: Graduation, Birthday, Wedding, Holidays, Anniversary, Baby Shower, Bridal Shower. It can also be used for Welcome party, Dance party, Singing party, Backyard Party, Office party, Company party, School party, Christmas party, Halloween party, Masquerade party, Holiday party, Celebration party, and so on.

5. HOME & OFFICE DECORATION: Great for fireplace decoration. To balance the aesthetic, put one tree on each side of the fireplace mantel. Super sparkly and a perfect soft glow when the lights are on. This is a pop up artificial metallic Christmas Tree. Hope it is a GOOD OPTION for YOUR GIFTS.
Prize:
(New Launch) Joy-Leo Silver Multicolored Decorative Artificial Tree for Party & Home , LED String Lights Mate Tree, Shiny Four-Season Christmas Tree, Glittering & Sparking, Collapsible & Reusable
Ends:
July 18, 2018 11:59 PM PDT or when all prizes have been awarded.
Limit:
Restrictions:
ENTER GIVEAWAY