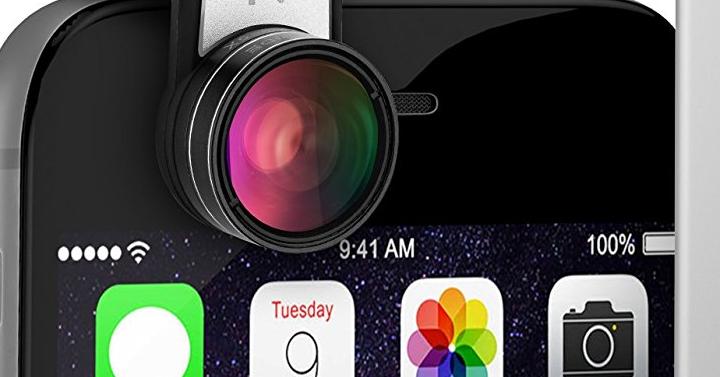 NOW EVERYONE CAN CAPTURE PROFESSIONAL QUALITY PHOTOS: You don't have to buy expensive photograph prints or pay for individual photo sessions! With Zeso's 3 in 1 Phone Camera Lenses Kit, you can capture every special moment, by utilizing your phone's camera feature to its full extent!

3 SPECIALTY CAMERA LENSES: It doesn't take having experience in photography or being well-versed in the professional lingo. You can experiment with the enhanced photographic effects provided by the Zeso Phone Camera Lenses Kit! We offer you a superior, wide range Fisheye Lens (198 ° right-left range), an astounding 15x Macro Magnifying Lens, to explore the miniscule details of nature and a Wide Angle Lens, to capture a panoramic view of any scenery!

WIDELY COMPATIBLE, LONG CAMERA MOUNTING CLIP : Contrary to most lens kits, this Phone Camera Lenses Kit comes with an extended length lens and phone mounting clip. Zeso's superior design ensures smooth, anti-slip adjustment. This clip is longer than most clips on the market and compatible with a vast range of devices, such as iPhones, Samsung and Android devices, iPads and other tablets!

100% WATERPROOF STORAGE: It's easy to carry your phone camera lenses everywhere with you with our sturdy case. It can be easily clipped on your jeans or hanged on your backpack. We provide you with a special, waterproof bag, to store your lenses and keep them free from moisture and water damage!

A RISK-FREE PURCHASE & A BONUS GIFT!: We take pride in the exceptional quality of our 3 In One Phone Camera Lenses Kit! We offer a 12 month warranty for every one of our kits. We want you to be satisfied! We provide a FREE E-BOOK with every purchase, to help you take the best pictures, using our kit! And in case you are not satisfied with your purchase within the first 60 day- we will fully refund your money, no questions asked. Click Buy Now And Get The Best Phone Camera Lenses On Amazon!
Prize:
Cell Phone Camera Lens 3 In 1 Kit by Zeso | Professional Fisheye, Macro & Wide Angle Lenses | For iPhone, Samsung Galaxy, Android, iPads, Tablets | Universal Phone Clip & Hard Storage Case | 4 Colors
Ends:
May 8, 2018 11:59 PM PDT or when all prizes have been awarded.
Limit:
Restrictions:
ENTER GIVEAWAY