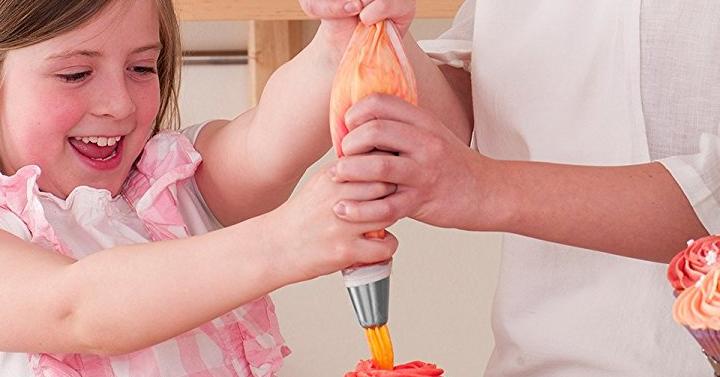 GET YOUR CHEF'S HAT ON-PREPARE TO AMAZE: Imagine you, in the kitchen, having just baked a cake that not only smells divine, but also looks so gorgeous and mouthwatering that you KNOW no one will be able to resist it. Feeling proud? Good! With our 54 Piece of Icing Tips, you will be able to deliver TV Chef-level cakes, cupcakes & cookies in no time, with absolute ease, like you are a natural.

SIMLPY THE BEST! THE MOST POPULAR SHAPES CHOSEN BY PROFESSIONALS: Our amazing 54-Piece TipTopCake set features the most beautiful shapes of tips, hand-picked by professionals, only for you! Whether you got your little boy's or girl's Birthday party coming up, or just any day that needs delicious and ridiculously good-looking pastry, we got you covered in finger-licking goodness!

THE PERFECT GIFT FOR THE COOK OF THE HOUSE: Running out of time to find the perfect gift for a baking enthusiast? Our Cake Decorating set is bound to impress and steal the show! Grab our kit and we guarantee that it will grant the ability of creating jaw-dropping cakes to anyone! Plus, our nozzles are all numbered so it's simply IMPOSSIBLE to not deliver the PERFECT cake, every-single-time.

WHY CHOOSE THIS SET: Our premium icing nozzle set is Food Trade Approved and consists of superior quality seamless steel tips. Inside the handy organizer that you can use to keep everything tidy, you can find 5 large tips, 5 small tips, 4 Russian tips, three color coupler, an icing smoother, a silicone decorating pen, a flower nail, a flower lifter, 4 fondant plungers, 6 modeling tools and 25 12″ disposable piping bags.

LIFETIME GUARANTEE: We at TipTopCake really want our customers to have the best experience possible because after all it's you who is at the heart of our business. That's why we offer a lifetime guarantee. Broken delivery? Missing Piece? Something not right? WE GOT YOU FULLY COVERED. Enjoy the safest purchase of your life. Grab our icing and decorating set while supplies last!
Prize:
Cake Decorating Supplies Set | Russian Tips , Icing Nozzle Tips Kit| Including 25 Disposable Piping Bags| Silicone Decorating Pen| Fondant Plungers| Pastry Decorations Made Easy & Fun By TipTopCake
Ends:
August 12, 2017 11:59 PM PDT or when all prizes have been awarded.
Limit:
Restrictions:
ENTER GIVEAWAY