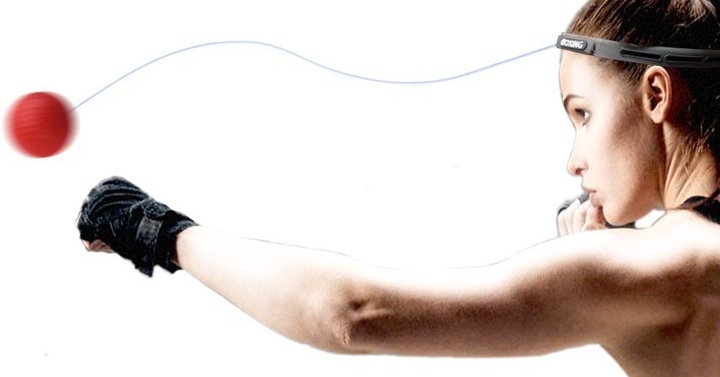 LIGHTER, SOFTER, SAFER – We specifically designed it to be much lighter and softer than the tennis ball, so it is grove-free and everyone can enjoy it without any worries about hitting yourself in the faces, eyes, noses and fists as well, it's much safer!

EXCLUSIVE DOUBLE BALL DESIGN – Are you worrying about it's difficult to get the hang? The black ball is specifically designed to be much easier for novices. Once you could dominate it, change to the red ball. Watch out the red ball, it's much more active and you may be knockout technically 🙂

THE BEST WAY TO IMPROVE HAND EYE COORDINATION and REFLEX – You don't have to be a professional boxer to use fight ball! It's the perfect training equipment that will increase your agility, concentration and reflexes while providing an intense workout!

LOOKING FOR A WAY TO GET A NICE WORKOUT IN YOUR DAY AND STAY IN SHAPE? – Lifting weights and long hours on the Gym bike is not the only way to get fit! In fact, Fight Ball might be even better and far more compelling. The unpredictability of the rebounding ball, coupled with the intensity of your punches will really burn out your arms, chest, shoulders and upper back, perfect for calorie burning and conditioning! In addition, it's very addicting!

PRACTICE ANYTIME and ANYWHERE – You don't have to go for a gym, just strap the headband on, have fun and burn you body within 15-20 minutes! Perfect for work breaks or school breaks or even for the beach and the park, this punching ball equipment will definitely burn a lot of calories and help you get fit!
Prize:
TEKXYZ Boxing Reflex Ball, Softer, Lighter and Safer than Boxing Tennis Ball Headband, Perfect for Hand Eye Coordination Training and Punching Speed Improvement
Ends:
March 21, 2018 11:59 PM PDT or when all prizes have been awarded.
Limit:
Restrictions:
ENTER GIVEAWAY